Archive for January, 2016
Posted on January 12, 2016 by
Fri, Sat & Sun, Feb 12th, 13th & 14th – Tampa, FL
Learn to Use Lease Purchases To Make A Minimum Of $10,000 Every Time!

From the Desk of Scott Ulmer…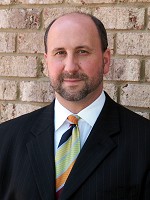 We will be in Tampa on February 12th, 13th & 14th for our 3 Day ABLE Mentoring Crash Course at the Doubletree Suites Tampa Bay located at 3050 N Rocky Point Dr W, Tampa, FL. During those 3-days, we will train you on how to implement our ABLE strategy immediately, and show you how you too can make a minimum of $10,000 for every deal you do. I have two passions outside of my family and religion… Perfecting the ABLE exit strategy, and seeing others succeed using the ABLE system. My team and I are going to give you 110% during these three days!
You will also receive the following:
Access to 100% of our Real-Time Marketing.
Live Breakout Sessions Where We Will Call Your Leads.
Flow Charts Laying Out The Process.
Several Real Deal Examples.
Common Seller Objections and Rebuttals.
And Much, Much More!
We are offering all of this for NOT $1995, NOT $995… Just $297 for Tampa REIA Gold Members, $397 for Silver Members and $597 for Non-Members. Based on your Minimum Payday of $10,000, the ROI on this training can be hugely significant. You simply cannot find a more applicable and sound investment strategy in today's real estate investing world. Banking restrictions are more stringent than ever, and believe it or not, the FDIC is getting ready to raise rates. Even more reason "non-traditional" sales, for both buyers and sellers alike, are becoming the wave of the future when it comes to transacting residential real estate. The timing for this training could not be any better.
We feel So Strongly about your chances for success that we are willing to offer you a 100% money-back guarantee. If after the 1st day you don't feel you can make a substantial amount of money and a substantial ROI (potentially 20 to 1 on your first deal), we will refund your money, no questions asked.
For those rehabbers and flippers, this same strategy can apply to your current investment properties. We will show you how you can DOUBLE, and sometimes even TRIPLE your profits utilizing ABLE's back-end system. We put together a video detailing how you can recognize the full value of this exit strategy in your own personal investments.
Elevate Your Success!
This is a genuine opportunity to enhance your financial life, increase your success and increase your business. Spend two information-packed days learning some of today's best techniques and approaches with the market transformers who pioneered this investing strategy, and hear how they broke through complexity, constraints and constrictions to achieve greater abundance, freedom and success.
You owe it to yourself to be here, to learn this strategy. This is a tremendous value and can be a tremendous addition to your existing real estate portfolio. Regardless of all of the "white noise" out there and all of the latest and greatest investing strategies, this program, its details and merits, and ability to generate a payday immediately exist nowhere else.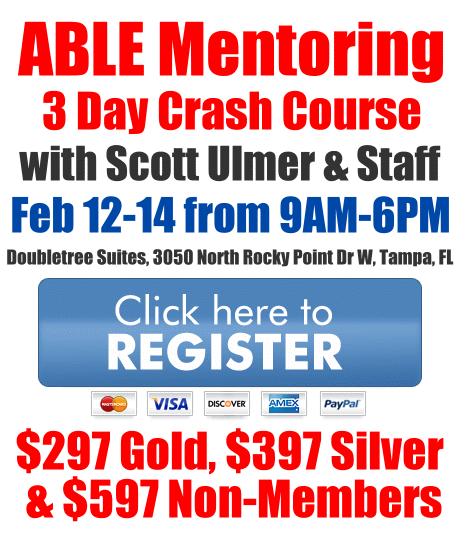 We are excited to see you all on February 12th, 13th & 14th at the Tampa REIA. Please reserve your seat asap. Seats are limited and are on a first come first served basis.
Mark off February 12th, 13th, and 14th and we will see you there!
Sincerely,
Scott Ulmer