Archive for October, 2021
Posted on October 26, 2021 by
If you are counting on the past real estate trends and regulations to help you close deals today, that is enough to put you out of business.  Since Covid 19 hit throughout the world, I have watched the short sale industry change on a monthly basis for Investors and Realtors.  What worked in the past is not working now.  The short sale industry has changed due to Covid 19 and if you don't change, your short sales deals will fall apart.  NO CLOSINGS = NO CASH.  Since I am a Short Sale Expert, Real Estate Broker and an Investor, I have had to watch with a keen eye in order to adapt quickly and successfully to the changes.  I have updated my system so I can cash in on short sales during Covid 19.
In order to allow your business to grow and be successful, you must also invest the time to "sharpen the saw" and renew the "mind" of your business………for the sake of your business.  The only guarantee we have is that change will always continue.  It's scary and often we want to bury our head in the sand and wait until it passes, but that's not a choice here.  We must arm ourselves with education and turn change from our enemy into our friend.  Join us Thursday evening, November 11, 2021, to find out how!
There are millions of Sellers that are either behind on their mortgage payments, attempting a Forbearance or in Foreclosure.  Everyone is aware that there was a moratorium on evictions which resulted in many landlords causing them to go into foreclosure in addition to the foreclosure moratorium for homeowners.  We have seen so many deaths due to Covid 19 causing more properties to go into foreclosure and leaving heirs with the lack of knowledge to sell a home from an estate. Learn how you can cash in on short sales during Covid 19 by joining me on Thursday, November 11, 2021.   If you are advertising, negotiating or referring short sale deals, then YOU NEED TO BE AT THIS MEETING OR ON ZOOM!  It is a "must see, must hear, must know" training!   Now is the best time to buy and sell short sales. 
You need to learn exactly how to motivate sellers especially during Covid 19, how to cash in on estate deals that are in foreclosure, and how to push your deal through fast with the short sale lender plus much more.   Join me at the meeting on Thursday, November 11, 2021, to find out how you need to make these changes in your business now.  In order to be successful, you have to move forward with the flow of change and continue to make the necessary adjustments that scare most people right out of the real estate business.  Investing in real estate can bring in lots of money for those who adapt.  Real estate is just like every other area in your life, if you want it to be successful, then you must keep educating yourself.  I am speaking at this meeting in order to support you in that decision!!
Join me on Thursday, November 11, 2021 at Tampa REIA and at the One Day Foreclosures Gone Wild Event on Saturday, November 13, 2021.  I will tell you all the secrets for successful short sale during this pandemic.  So … mark your calendar and be there!  There are plenty of short sales to go around; be sure to invite all of your real estate and investor friends! Dustin said Tampa REIA Members can bring one guest to the November meeting at NO CHARGE!
Kimberlee Frank
Posted on October 26, 2021 by
Sat, November 20th, 2021 on Zoom Webinar
Due Diligence Workshop
A Hands-On, Online Workshop for Any Investor Who Wants to Know, Understand & Run Their Numbers Like a Pro!
Sat, November 20th from 9AM-6PM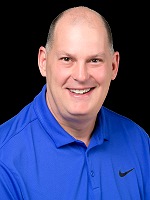 When it comes to running a profitable real estate investing business, it's all about knowing your numbers. If you're off on your numbers, you may barely break even on a deal or even worse… lose big time!
You've probably heard the saying… "You make your money when you buy and you get paid when you sell". This means YOU MUST KNOW YOUR NUMBERS BEFORE YOU BUY SO THAT YOU WILL GET PAID WHEN YOU SELL!
So when it comes to knowing your numbers…
Do you know how to really determine if you are buying a good deal or not?
Do you know if you're paying too much?
Do you know how much profit you're going to make?
Do you know how to do all your due diligence before you buy and what to look for?
Do you know how to accurately determine the AS-IS value of an ugly house?
Do you know After Repair Value (ARV) of a property for a buy and hold vs a fix and flip (or a high end rehab vs a low end rehab)?
Do you know how to accurately determine repairs and estimate repair costs before you buy?
Are you totally comfortable using the numbers your buyer or sellers give you when working a deal?
Do you know how to quickly run the numbers like a pro?
Do you know the other types of due diligence you must do before you ever close on a deal?
If you answered "NO" to any of these questions, unfortunately you may be going to a real life, expensive, school of hard knocks seminar very soon if your not extremely careful!
Instead of learning these valuable due diligence skills the hard and expensive way, be sure to attend the upcoming, highly affordable, Due Diligence Online Workshop with Don DeRosa on Saturday, November 20th, 2021 from 9AM to 6PM on Zoom Webinar.
At this Online Workshop, You will Learn:
How to become a transaction engineer
How to determine the different types of property values
Using different property valuation models
Reliable sources of "comparable" information data
How to find and run comparables
How to decide which comparables to use and which to ignore
How to be a problem solver to create win-win deals for everyone
How to take a lead and come up with multiple ways to structure the deal
How to use your computer or mobile device to do your due diligence
How to use state of the art tools to do all your negotiating for you
How to overcome all seller objections when buying a house
How to know the differences with a property's rental income and it's value
Determining how much an investor should pay for a property
Identifying the target market (buyers) for the property
How to utilize public and near public information
How to inspect the property
How to determine what kinds of repairs are needed based on your exit strategy
How to estimate the costs of repairs based on your exit strategy
How to determine if a lead is a deal or no deal
Checking title and solving title flaws
Pitfalls to Avoid
All this, answers to your questions & so much more!
Sign Up Today and make 2022 your most profitable year ever in real estate investing by knowing how to run your numbers and how to buy right! REGISTER NOW!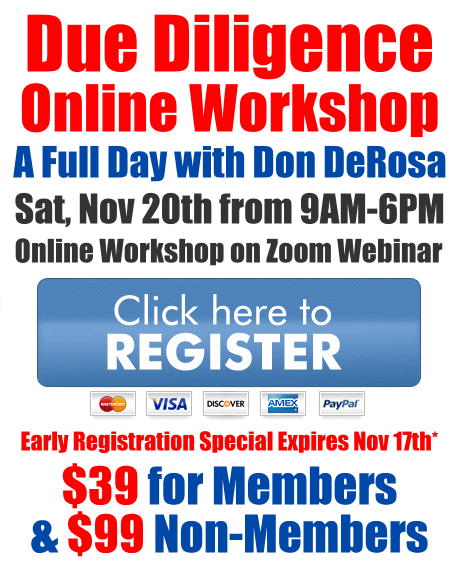 *PLEASE NOTE: Early Registration Expires on Wednesday, November 17th at Midnight. Tuition will increase by $30 per person on November 18th. Non-Members who Join Tampa REIA can attend the event at member price.
Don DeRosa is a real estate investor, author, teacher, coach and national speaker. Don has trained thousands of new and experienced investors to build wealth in real estate using the same techniques that helped him build his fortune, particularly buying with owner financing, using private money, creatively structuring deals and selling quickly in any market.
Posted on October 6, 2021 by
Sat, October 23rd Online Workshop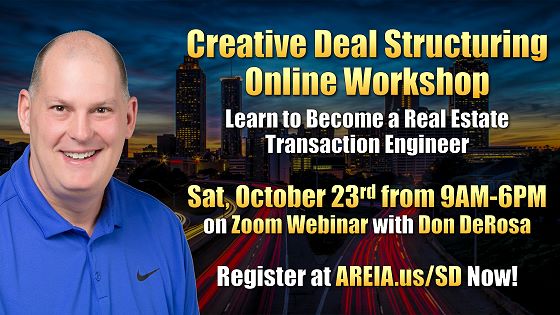 Creative Deal Structuring
How To Make the Most of the Upcoming Tsunami of Foreclosures
Learn How to Structure Creative Deals Like a BOSS
Sat, Oct 23rd from 9AM-6PM on Zoom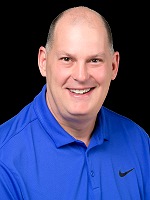 With housing inventory at an all time low, it has become increasingly more difficult to find deals. Notice I didn't say GOOD deals, I said deals in general. If you are homeowner, in the market to buy a house, it can be a very frustrating task. Especially when it seems everyone is bidding on the same home and willing to pay ridiculous prices. It can be even worse if you don't have the cash to compete with buyers that do. However, this is about to change. I am about to change your life and how you look at real estate deals forever.
Fortunes are NOT made when you buy in a SELLERS market. Fortunes are made when you buy in a BUYERS market and then, sell in a Sellers market. With the number of mortgage defaults at the highest level it's been since 2008 the writing is on the wall. As an investor you need to be prepared. Prepared to take full advantage of the upcoming chaos that is about to happen. But, in order to take advantage of this chaos you must be armed with the proper tools and the exact steps to take before it hits. That is why I have created this brand new seminar on the how to handle this foreclosure tsunami like a BOSS.
While everyone is fighting over the small pool of retail buyers there is an entire segment of homes that will need solutions to their financial problems. These homes do not fit the normal mold of a good retail sale. They may possibly be over leveraged, need repairs and are in severe financial distress, which most retail homeowners won't want to deal with or even know how, but are ideal for the smart educated creative investors. Time to elevate your game.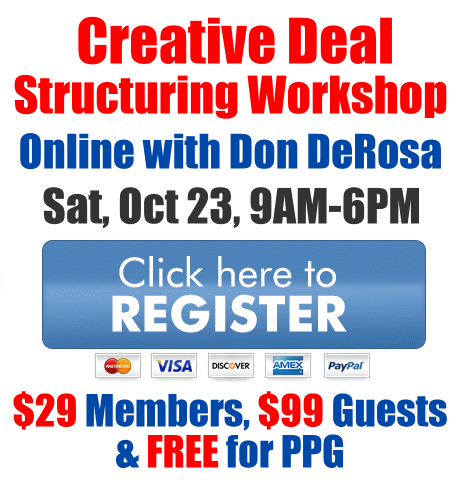 At this event you will learn:
How to buy real estate without using banks using creative techniques, even if you have no cred or cash
How to attract the most motivated sellers to call you
How to prescreen them like a Pro, so you don't waste time on non-motivated sellers
What questions are the right ones to ask the Seller and which ones get you nowhere
How to evaluate COMPS, determine "After Repair Value" and calculate guaranteed profit
How to make sure you NAIL your repair cost in this rapidly rising lumber price market
How to formulate 3 different offers on every home you want to buy
How to get a wholesale profit of 5k or more, and keep the property for cash flow as well
What are the 11 creative BUYING strategies every investor must know, like "Sub To" wrap around mortgages, Sandwich Lease Options, etc…
Why someone will be glad to give you the deed to their home, in fact they may even pay you to take it off their hands (Yes this happens)
How to create three different pay days on every deal that you do. (Upfront, cash flow and backend)
How to match the BUYING strategies with the seven main SELLING strategies to make you recession proof.
Why the due on sale clause is not as important as you originally thought
And a whole lot more…
Once you learn these time tested strategies and techniques you will be able to take this market by storm and ride this massive wave straight to the bank.
Come join me Online on Saturday, October 23rd from 9am – 6pm
I look forward to seeing you all there. Register Now!