Archive for July, 2013
Posted on July 17, 2013 by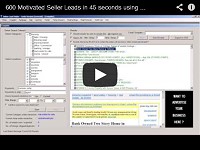 It has been less than one week since we last informed you that Duncan updated his famous Online Lead Finder Software. Duncan takes your feedback seriously and is constantly working to improve the software and make it better for active real estate investors like you. Now, as of today, July 17th, he has done it once again with version 2.5.1!
Duncan also wanted us to advise you on some upcoming changes to the Online Lead Finder Software as he continues to add more and more features. In the next, 30 – 45 days, Duncan will be raising the price of the software from $497 to $697. By the end of the year he will raise the price to $997 as he continues to add even more powerful and profitable features. He will also soon be charging an annual maintenance fee for ongoing upgrades upon the completion of Version 3.0.
Despite these forthcoming price and policy changes, there is some very good news. If you are currently and Tampa REIA Gold Member or Become a Gold Member before the upcoming deadline which will either be August 1st or September 1st, you will be grandfathered into the program and continue to receive the unlimited version of the software and all upgrades for FREE as long as you remain an active Tampa REIA Gold Member.
Even if you miss the deadline and become an Tampa REIA Gold Member in the future, you will be able to purchase the unlimited edition of the software for $100 and get a 50% discount on the annual maintenance and upgrade fee. But to be grandfathered in for FREE indefinitely, join Tampa REIA as a Gold Member and maintain your membership each year.
If you are an Tampa REIA Silver Member, the Silver Edition, which is limited to 25 leads per day, will continue to be FREE as will all future upgrades.
If you are an Tampa REIA Member you can download the latest version of software for FREE by Read More→