Archive for August, 2021
Posted on August 11, 2021 by
Thu, August 12th
from 6PM-9PM Live & In Person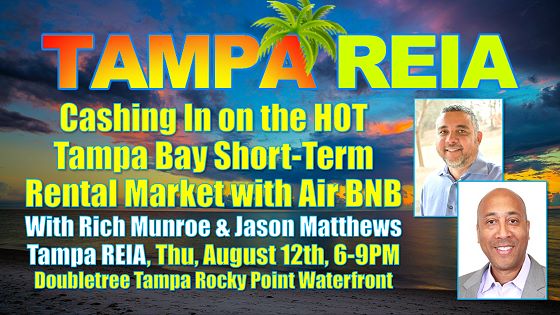 TAMPA REIA LIVE
Meeting & Vendor Tradeshow
Thu, August 12th, 6PM-9PM
How to Cash In on the HOT Tampa Bay Short-Term Rental Market with Air BNB
with

Richard Munroe

&

Jason Matthews
TAMPA REIA  meets on Thursday, August 12th from 6PM to 9PM with special guest speakers Rich Munroe and Jason Matthews at the Doubletree Tampa Rockypoint Waterfront located at 3050 North Rocky Point Dr. West in Tampa, FL.
If you're considering jumping into the fast-moving rapids that is the Short-Term Rental Industry, you will definitely want to attend Tampa REIA on August 12th as we bring in two local expert guides to help you navigate the treacherous waters.
Veteran investors Jason Matthews and Rich Munroe collectively own and/or manage over 60 properties on the Air BnB Platform. This custom presentation designed for Tampa REIA members and friends promises to deliver solid advice you can put into action today.
Join us to learn how to evaluate a property, set it up to receive guests and double, if not triple, the revenue you could make over a traditional long term rental strategy.

Jason Matthews, owner of Merin Hospitality Group, has been an investor and project manager for 26+ years spanning: fix n flip, commercial construction, owner's representation, consulting, portfolio asset management, and now 4 years of STR hosting. He is building a Tampa Bay portfolio of 100 STR properties.

Rich Munroe, owner of Diamond Edge Properties, has been an investor and Property Manager for 20 years with over 400 property acquisitions. Property Management in this sector is very specific. Before you contract with ANY property management firm, you will want to hear how Diamond Edge plots the course for its owner clientele.
Tampa is Air BnB's #1 growing short term rental market and inventory cannot meet the demand. Everything is different in hospitality industry given the pandemic. Whether you own 1, 15, or 0 vacation rentals currently, come join us to learn how you can cash in on this hot trend that is here to stay for the foreseeable future!
Rich and Jason are also going to divulge the "Top 5 Drowning Dangers for Air Bnb Hosts & How to Avoid These Deadly Hazards!"
You can try the short-term rental markets yourself in an innertube or climb aboard a lifeboat with paddles, life jackets and provisions. RSVP Now and Join Us at Tampa REIA to learn all about this very profitable and rewarding real estate investing niche.
*Meeting Day Agenda
*Please Note: Meeting agenda is subject to change.
Monthly Vendor Trade Show

At 6:00 PM in the Main Lobby, we have a Vendor Trade Show that lasts throughout the meeting where you can come out and meet many of our participating Business Members and Vendor Guests who help sponsor our meeting.
Vendor tables are limited, so any vendors wanting to reserve a table for the meeting can RSVP for a Vendor Table here. Vendor tables are reserved and setup on a first-come, first-serve basis.
Our Meeting Sponsors


Foreclosures & Probates Daily – We are a nationwide lead provider for Investors, Realtors and Attorneys. We provide leads to suit your real estate needs such as Probates, Pre Probates, Inheritance, Lis Pendens, Auctions, Absentee Owners, Tax lates and Cash Buyers just to name a few. Call Tangie at (813) 563-0005 Ext 2 for a FREE Demo! Read More>>

EquityPro Tampa Bay – A niche real estate brokerage specializing in investment real estate. Our team's primary focus is to help you identify properties that get you closer to your investment goals. Whether you are looking for rental properties, flips, just starting out, or you have purchased multiple properties, our team of Advisors can help. Read More>>

JM Real Estate Capital – Helping real estate investors fund their real estate projects. Whether you're looking to fix & flip or start a full scale real estate project, JM Real Estate Capital is your go to supporter. Have a question for our team? We're ready and happy to help. Read More>>
What's Happening at Tampa REIA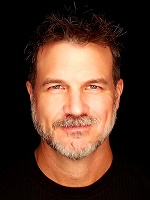 Starting at 6:30 PM, Dustin Griffin kicks off the Tampa REIA Main Monthly Event with updates and announcements. Dustin covers what's happening at Tampa REIA in the upcoming weeks and months such as upcoming workshops, webcasts, special events, members benefits and much more!
Haves & Wants Marketing Session
At a little after 6:45 PM, we will be having the Haves & Wants Speed Marketing Session which gives our members the opportunity to quickly market deals they HAVE and to find deals they WANT. We also give our business members the opportunity to get up and say a few words about their businesses. Members who want to participate in the Haves & Wants Marketing Session must bring your flyers and get to the meeting early to get on our list of participants.
Late Night Networking at Bahama Breeze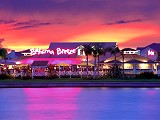 After the conclusion of the Tampa REIA Main Meeting (around 9:30PM), we will be reconvening at Bahama Breeze located at 3045 N Rocky Point Dr E in Tampa for the "Meeting after the Meeting" with Tampa REIA Crew. Come eat, drink, network and have fun with us as hang out late into the night on Tampa Bay!