Archive for January, 2013
Posted on January 7, 2013 by
Sat, Jan 12th @ 8:30 AM – Doubletree Suites Tampa Bay
"How to Make $20K in 30 Days"A Full Day Workshop with Don DeRosa on Jan 12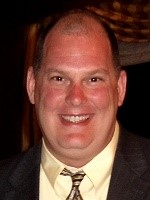 Would You Like to Make More by Working Less? Is this really possible? Real estate expert, Don DeRosa says "15 hours a week is all you need to build short term cash flow and long term wealth by investing in real estate."
Imagine taking any seller lead and creating a profitable, winning deal… making thousands of dollars in profit where you thought there was none. Wouldn't this be nice? No more wasted marketing dollars. No more wasted phone calls. No more wasted time.
If you want to learn how to make more and work less by investing in real estate, be sure to join Don DeRosa for a full day workshop "How to Make $20,000 in 30 Days… Tools, Tactics & Strategies to Create Winning Deals" on Saturday, January 12th from 8:30 AM to 5:00 PM at the Doubletree Suites located at 3050 N Rocky Point Drive West in Tampa, FL.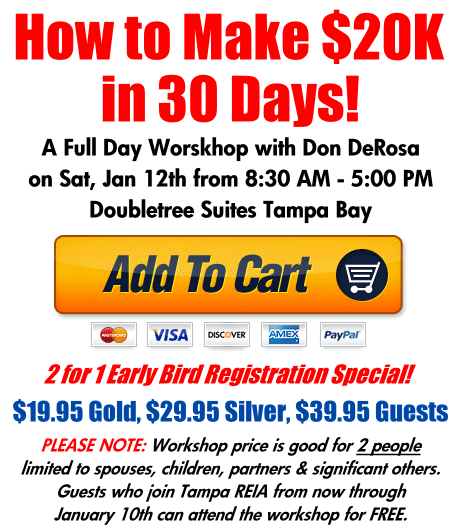 Don will share the state-of-the-art tools and techniques he uses to evaluate and structure deals–so you can work less, earn more and spend your quality time doing what you want, when you want and with whom you want. You'll learn…
How to get your phone to ring off the hook with HOT leads within 60 seconds for less than $25!
How to put a tenant in a house and still make $20,000

before

you even buy the house!
The number one thing that will get your houses sold FAST!
The "Secret" to creating passive income of $350 or more per month without using any of your own money and with NO management on your part!
How to become a "mind reader" to find exactly what the seller's hot buttons are so you can craft a deal the seller wants to take!
How to use Don's patented "Green means 'GO', Red means 'NO'" tools to negotiate for you so that you never let your emotions talk you into making a bad deal!
All this and so much more!
PLEASE NOTE: Guests can Join Tampa REIA as a Silver Member for a full year for only $100, now through January 10th and attend Don DeRosa's "How to Make $20K in 30 Days" Workshop on January 15th at NO CHARGE.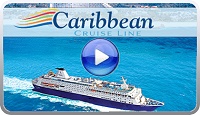 WIN A CRUISE: All participants who attend the Workshop on Jan 12th will entered into a drawing for a chance to win a *Complimentary 2 Day Cruise to the Bahamas with Caribbean Cruise Line! *You must be present at the workshop to win. The 2 day Cruise does not include port fees, transportation and taxes.