Archive for November, 2012
Posted on November 28, 2012 by
Get FREE Tickets While They Last!
Urgent Announcement: I have some very good news for our Tampa REIA Members, friends and followers… My good friend and real estate expert, Robert Shemin, called me an gave me 15 FREE tickets to his 2 day Wealth Academy in Tampa on December 1st and 2nd to share with you! This is a $997 event and you can attend for FREE if you do one thing… Register Now!
You must be one of the first 15 people who REGISTER HERE and use special coupon code "tampareia" at checkout. Please do not register and take up a seat if you cannot attend both days. If you can make it, please register now before these 15 FREE Passes are gone!
PLEASE NOTE: When you go to check out on Robert's site, even though you use the coupon and  have a zero balance, the site still requires that you enter your credit card info even though you are not being charged.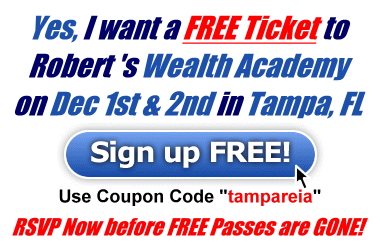 The Wealth Academy takes place on December 1st and 2nd at the Intercontinental Hotel located at 4860 West Kennedy Blvd in Tampa, Florida.