Archive for June, 2021
Posted on June 7, 2021 by
Thu, June 10th
from 6PM-9PM Live & In Person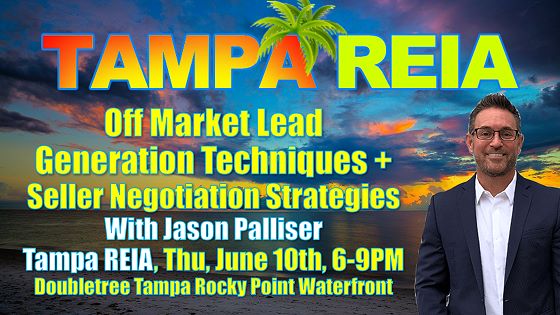 TAMPA REIA LIVE
Meeting & Vendor Tradeshow
Thu, June 10th, 6PM-9PM
Lead Generation Techniques & Seller Negotiation Strategies
with

Jason Palliser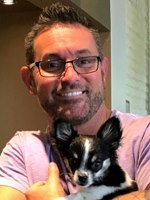 TAMPA REIA  meets on Thursday, June 10th from 6PM to 9PM with special guest Jason Palliser at the Doubletree Tampa Rockypoint Waterfront located at 3050 North Rocky Point Dr. West in Tampa, FL.
At our June Tampa REIA Meeting, excited to have local real estate expert Jason Palliser who teach you "Off Market Lead Generation Techniques & Seller Negotiation Strategies". RSVP Now to attend the meeting!
With 25+ years of experience, Jason Palliser has perfected the "front end" of real estate investing. His 2 Day Investment Blueprint delivers 30+ direct response off market funnels to take over markets across America. The Blueprint has produced thousands of homes in 138+ markets for hedge fund level companies. He sold a multi-million dollar real estate investment automation company that is still used today by some of the largest real estate education companies in the country. His specialties are Systems, Automation and The Sharpest Lead Generation techniques without needing a big budget.
Having trained over 25,000 investors to date for many of the biggest RE Investment training companies and TV shows, he knows where to plug the gaps in any investor's biz that his consultant company touches. Process and systems win the game and his Blueprint delivers both.
Jason has perfected the "back end" of real estate investing as well. Besides just mastering the front end of generating off market real estate leads, his 2 Day Blueprint Buildouts also deliver superior investor negotiations with the "Seller Waltz" he teaches to clients big and small.
Whether training a 12 person acquisitions team for a hedge fund or an individual investor client, his "Seller Waltz" approach closing sellers like an assassin is second to none. His techniques take the "Seller No" and turn it into a "Seller Yes" using 10 different ways that make virtually every appointment a profitable one.
If you want to learn how to generate more off market motivated seller leads and get more of these leads under contract, be sure to RSVP Now and join us LIVE IN-PERSON on Thursday, June 10th from 6PM to 9PM with Jason Palliser on Lead Generation & Seller Negotiations!
*Meeting Day Agenda
*Please Note: Meeting agenda is subject to change.
Monthly Vendor Trade Show

At 6:00 PM in the Main Lobby, we have a Vendor Trade Show that lasts throughout the meeting where you can come out and meet many of our participating Business Members and Vendor Guests who help sponsor our meeting.
Vendor tables are limited, so any vendors wanting to reserve a table for the meeting can RSVP for a Vendor Table here. Vendor tables are reserved and setup on a first-come, first-serve basis.
Our Meeting Sponsors


Foreclosures & Probates Daily – We are a nationwide lead provider for Investors, Realtors and Attorneys. We provide leads to suit your real estate needs such as Probates, Pre Probates, Inheritance, Lis Pendens, Auctions, Absentee Owners, Tax lates and Cash Buyers just to name a few. Call Tangie at (813) 563-0005 Ext 2 for a FREE Demo! Read More>>

EquityPro Tampa Bay – A niche real estate brokerage specializing in investment real estate. Our team's primary focus is to help you identify properties that get you closer to your investment goals. Whether you are looking for rental properties, flips, just starting out, or you have purchased multiple properties, our team of Advisors can help. Read More>>

JM Real Estate Capital – Helping real estate investors fund their real estate projects. Whether you're looking to fix & flip or start a full scale real estate project, JM Real Estate Capital is your go to supporter. Have a question for our team? We're ready and happy to help. Read More>>
What's Happening at Tampa REIA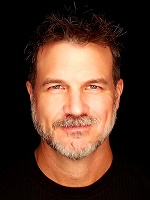 Starting at 6:30 PM, Dustin Griffin kicks off the Tampa REIA Main Monthly Event with updates and announcements. Dustin covers what's happening at Tampa REIA in the upcoming weeks and months such as upcoming workshops, webcasts, special events, members benefits and much more!
Haves & Wants Marketing Session
At a little after 6:45 PM, we will be having the Haves & Wants Speed Marketing Session which gives our members the opportunity to quickly market deals they HAVE and to find deals they WANT. We also give our business members the opportunity to get up and say a few words about their businesses. Members who want to participate in the Haves & Wants Marketing Session must bring your flyers and get to the meeting early to get on our list of participants.
Late Night Networking at Bahama Breeze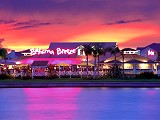 After the conclusion of the Tampa REIA Main Meeting (around 9:30PM), we will be reconvening at Bahama Breeze located at 3045 N Rocky Point Dr E in Tampa for the "Meeting after the Meeting" with Tampa REIA Crew. Come eat, drink, network and have fun with us as hang out late into the night on Tampa Bay!
Posted on June 1, 2021 by
Sat, June 19th in Tampa, FL
– Attend In Person or Online
How to Buy Income Producing Commercial Real Estate From Home Without Using Your Own Cash or Credit
A Half Day Commercial Real Estate Master Class with

Marco Kozlowski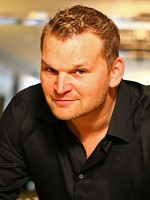 Due to the incredible response we've received from Marco Kozlowski's presentation at Tampa REIA last month on how to find discounted U.S-based real estate and buy as many units as you want, using NONE of your own money…
TAMPA REIA is excited to announce that we've asked Marco to come back for an encore presentation. This time, it's a full, 3-hour masterclass on Saturday, June 19th from 9AM to NOON at the Doubletree Tampa Rockypoint Waterfront located at 3050 North Rocky Point Dr. West in Tampa, FL or Online via Zoom Webinar.
Register for the Commercial Master Class Now!
In this Master Class, Marco's going to show you:
How to exclusively use other people's money to buy as many multis as you want, regardless of credit.
Case studies on how this was done (he has hundreds of video testimonials of successful students, and new deals every week)…
How to get heavy discounts on multis, starting today…
How to pull thousands out at closing on your 1st deal…
How to guarantee your results (as long as you follow a step by step process…)
How you can do ALL of it part time… never leaving your house… on your laptop (yes, including closing)
Ask as many questions as you like so you can start immediately
This is the best system I've seen if you want to add a new passive-income source to your life (or get WAY more units if you're already an investor)…
… That can not only protect you against economic downturns like we're in now… but allow you to profit from them FAR more than during normal economic times (while feeling good about helping people at the same time.)
His average student is able to retire in about 3 years. With what's coming, he expects that time to be cut in half.
Obviously we can cover Marco's system in a LOT more detail with a full 2-hour masterclass, so I highly recommend you block out a couple of hours tonight, turn off distractions, and watch it in full.
Register for Marco's Master Class Here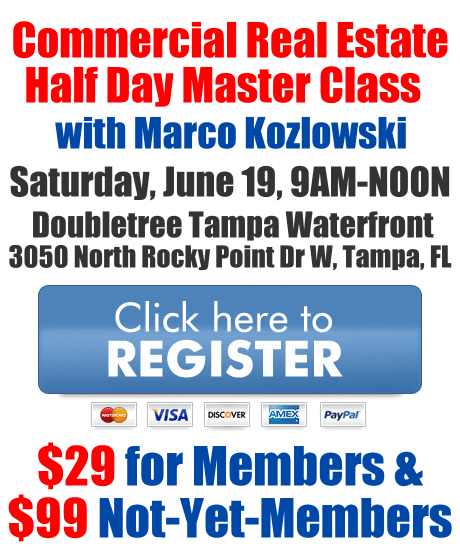 *PLEASE NOTE: Tuition price will increase and will be per person after Early Registration Expires. Register now and save! You can choose to attend In Person or Online during checkout.
BTW, if you're interested in Marco's system and are wondering how you can get started, he gives you a way to get his help buying your first 3-5 unit property.
It will "net" about $200 per month (per unit), meaning your first asset will generate $600 – $1,000 per month… forever.
Oh, and he'll show you how to pull out $3,000 at closing (which is more than the cost of the program).
If you believe in the power of real estate to make you wealthy and want more passive-income in your life, this is a no-brainer. Register for Marco's Master Class Now!