Beginning Investors Group Online
Beginning Investors Group Online (BIGO) Webinar Replays
Beginning Investors Group Online (BIGO)
Please scroll down the page to see our Upcoming Beginning Investors Group Meetings and Meeting Replays!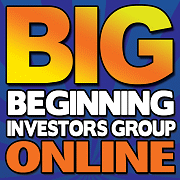 The Beginning Investors Group Online ( The "BIG O" or BIGO) is an new ONLINE educational group for new investors who are just getting started in real estate investing as well as "new again" real estate investors who've taken a few years off and are looking to get back in the game.
We will be bringing in local and national real estate experts to teach new investors how to survive and thrive in our ever changing economy and real estate market. The entire purpose of this group is to help new investors get their first deal and help new again investors get their next deal.
The Beginning Investors Group Online meets on the 4th Tuesday of each month from 7:00 PM ET to 9:00 PM on Zoom.us Video Webinar. The main presentation will start at 7:00 PM ET and go to approximately 8:30 to 9:00 PM.
Register for BIG Online Now via Zoom.us Webinar