Archive for October, 2020
Posted on October 14, 2020 by
Sat, October 24th – Online Workshop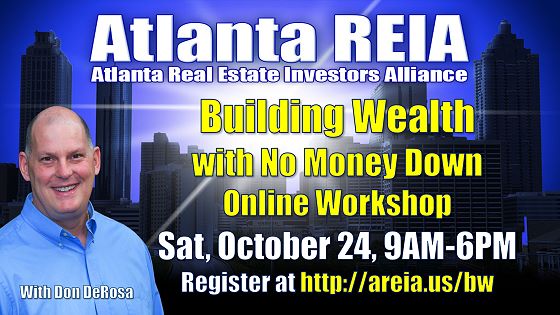 A BRAND NEW REI Workshop…
Building Wealth
How To Buy Houses without Banks, Credit or Bundles of Cash
Using Subject-To, Wrap Around Mortgages & Sandwich Leases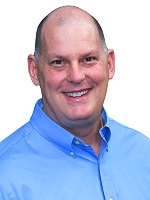 Do you remember playing musical chairs as a kid? The basic premiss is you always have one less chair than you have people and someone plays the music while everyone walks around the chairs and when the music stops, everyone rushes to an empty chair and the one left standing without a chair is out.
Well, real estate is a lot like that. As long as the real estate market is good (Hot) and the music is playing, everyone is happy. In fact most people don't ever think about when the music is going to stop. But let's get REAL for a moment. Real estate goes in cycles. History tells us that about every 10 years we transition from a Seller's Market to a Buyer's Market.
So what does that mean? That means that our real estate market has been going gang busters for over 10 year now. It is time for a historical shift in the cycle. No-one ever knows when or believes it is going to happen, but yet it always does. So, do you want to play musical chairs and wait until the music stops and possibly be left without a chair or do you want to prepare yourself for eventual change?
When I make this analogy, I am typically talking about the investors that buy traditionally and not creatively. The secret to becoming "recession proof" is your ability to buy and sell in ANY market using creative techniques where you don't need banks, you don't need credit and you don't need lots of money. I'm talking about the getting Sellers to give you the deed to their property so you won't need banks, credit or bundles of cash.
On Saturday, Oct 24th,I will be teaching a NEW Seminar and combining some of the oldest and most powerful techniques in real estate today, but in a new way. At this event, you will learn how to locate leads, screen them and negotiate using simple tools that don't cost a lot of money or time.
If you really want to make money in real estate, then don't do what everyone else is doing. Do something that only a few people know how to do successfully. Buy on owner finance using techniques like "Subject to", Wrap Around Mortgages and sandwich lease options. I will show you how to own ANY house, regardless of price, even if you have no money (or don't want to use it) or credit. I will prepare you for when the music stops, so you are guaranteed to have a chair.
Join me and you will learn:
How to Find These Diamonds in the Rough
How to Evaluate Them Quickly
How to Write Multiple Offers in Minutes
What to say to the homeowner to get them to say YES
What paperwork is needed for "Subject to", Wraps and Sandwich Lease Options
How to protect yourself
How to find the money
And a whole lot more…
If you are wanting to learn how to invest in real estate, but don't know where to begin, how to really crank things up or don't want to do it alone… then this is the event to attend! I promise you don't want to miss it. Register Now!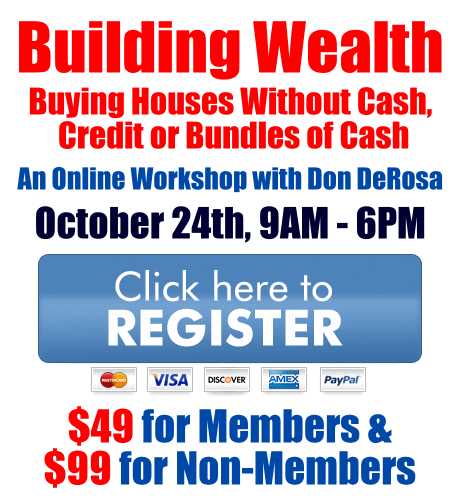 Posted on October 9, 2020 by
Mon, October 12th
from 6PM-9PM ONLINE via Zoom Webinar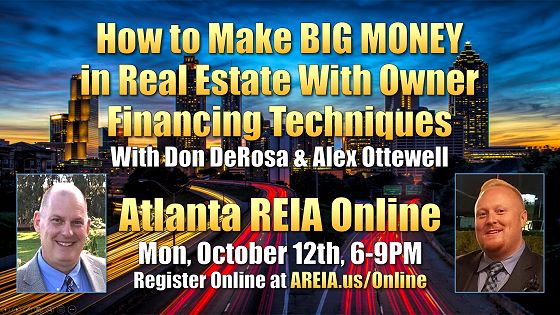 How to Make BIG MONEY in Real Estate With Owner Financing Techniques
with

Alex Ottewell

&

Don DeRosa
Atlanta REIA, Tampa REIA, Savannah REIA & Chattanooga REIA Members Who RSVP Online Can Attend at NO CHARGE. Non-Members for $20.
Register at AREIA.us/Online.

With the elections right around the corner and the economy in an uncertain state, one thing is for sure. Real Estate investing is still at an all time high. BUT, will it stay there? That is the question on everyone's mind right now.
Well, here is an answer to that very important question. It REALLY doesn't matter. Here's why… When investing in real estate using creative techniques such as Owner Finance, Subject-To and Wrap Around Mortgages, the traditional whims of the market don't really apply.
Creative Real Estate Investors make money in any market, whether it is UP or DOWN, it really doesn't matter because we don't have to rely solely on traditional methods to buy and sell.


At this month's Atlanta REIA Online Webinar on Monday, October 12th from 6PM – 9PM, you will get the perspective of two Expert Creative Real Estate Investors and how they thrive in ANY market. Don DeRosa and Alex Ottewell will share with you many of the secrets that have elevated their business above the whims of the market.
Some of the things they will share are:
Why Subject To is the greatest buying technique in real estate today
How to Structure seller finance deals
When to finance and when to flip/wholesale
How much to rehab a finance deal, so you don't over rehab it
Alternate ways to finance the purchase
How important your numbers are in every deal
What types of contracts to use for seller financing
How to sell seasoned notes
Answers to your questions and more!
These are just a few of the gems you will learn from these seasoned professionals. If you are concerned with where the economy is headed, then you don't want to miss Don and Alex because they will show you a whole new way to invest virtually risk free.
Register to Attend Now and join us Online on Monday, October 12th from 6 to 9PM. We hope to see you there!
Atlanta REIA, Tampa REIA, Savannah REIA & Chattanooga REIA Members Who RSVP Online Can Attend at NO CHARGE. Non-Members for $20.
Register at AREIA.us/Online.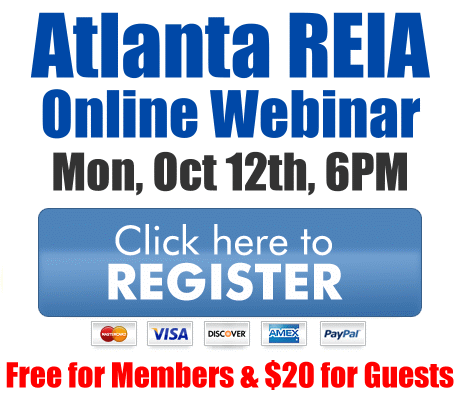 *Meeting Day Agenda
*Please Note: Meeting agenda is subject to change.
The Meeting Before the Meeting
How to Control Real Estate Without Risk of Ownership
with

Don DeRosa
"The secret to success is to own nothing, but control everything."
~ Nelson Rockefeller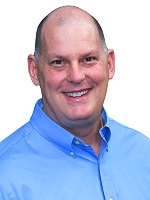 Join Don DeRosa every month at 6PM SHARP at our Meeting-Before-the-Meeting that we like to call the High Tech Home Buying Creative Deal Structuring Subgroup  that meets one hour BEFORE the Atlanta REIA Main Monthly Event.
In this month's Meeting Before the Meeting, Don is going to show you the simplest and easiest way to get monthly cash flow without all the troubles of being a landlord.
Don says "I am going detail out one of the oldest techniques in real estate and until now has been all but forgotten. I will show you where to find these cash cows and how to control these homes without ownership all while creating 3 different paydays on every deal."
You will learn:
How to find everyday deals
How to create 3 distinct profit centers on each deal
How to structure them
What paperwork is needed
And then how to get rid of them when its time
Join us at the Meeting-Before-the-Meeting each month where Don will teach you about different real estate investing purchase and sale strategies to put more money in your pocket as well as state-of-the-art tools and techniques you'll use to evaluate deals and figure out how to make them work. You'll learn to work less and earn more so you can spend more time where you want, when you want and with whom you want.
Atlanta REIA, Tampa REIA, Savannah REIA & Chattanooga REIA Members Who RSVP Online Can Attend at NO CHARGE. Non-Members for $20.
Register at AREIA.us/Online.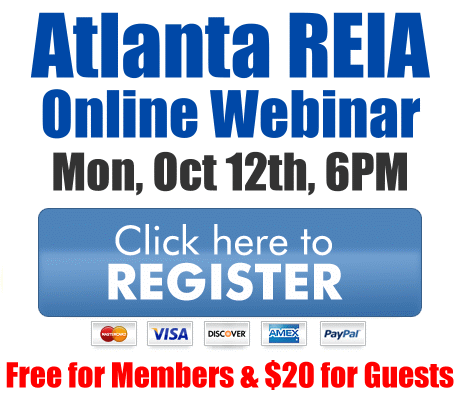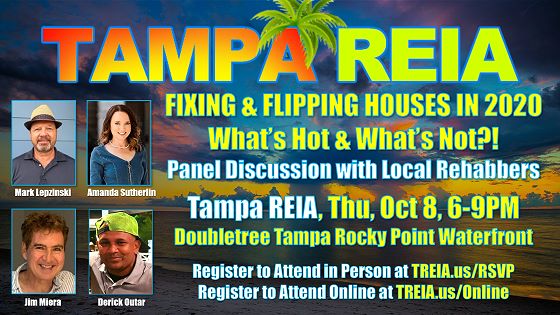 TAMPA REIA is BACK LIVE & IN PERSON on Thursday, October 8th from 6PM to 9PM at the Doubletree Tampa Rockypoint Waterfront located at 3050 North Rocky Point Dr. West in Tampa, FL. We will also be doing our best to Broadcast Live to those that cannot attend in person.
There are two ways to attend…
Register to Attend in Person at TREIA.us/RSVP – For your safety and the safety of others, please bring a facemask to wear if you plan on attending in person.

Register to Attend Online at TREIA.us/Online – After you checkout using this link, be sure to immediately register for the Tampa REIA Webinar on Zoom.
The Local Expert Panel
Mark Lepzinski
Rehabber
Amanda Sutherlin
Rehabber
Jim Miera
Rehabber
Derick Outar
Rehabber
This month, since this is only our second time to get together live and in person since Covid-19 struck back in March, we've invited a few of our local real estate investor friends to join us for a panel discussion rehabbing in the CRAZY YEAR of 2020.
Perhaps you've always wanted to Fix & Flip Houses for Fast Cash or to Fix and Hold for Long Term Cash Flow but didn't know how or where to get started? Maybe you're wondering if this is a good time to get started with all the craziness going on in the country right now.
If so, be sure to RSVP and join us this month at Tampa REIA with our All Star Rehabber Panel including Mark Lepzinski, Amanda Sutherlin, Jim Miera and Derick Outar. Some of these guys and gals are seasoned pros while others have enjoyed much success more recently. Some are not only rehabbers, but are also creative real estate investors, wholesalers, landlords, short-term rental hosts, note buyers and sellers and more.
Mark Lepzinski has been a Creative Real Estate Investor for couple decades with a focus on deal making including JV deals, creative structures, portfolio structuring. Mark is a full time investor and does wholesaling, rentals and rehabs. He is also the host of the Facebook group Wholesale Real Estate Tampa bay and co host of Beach REIA.
Amanda Sutherlin has been investing since 2014. She started out as an unemployed single mom. She's acquired several rentals including a vacation rental and started a very successful flipping business. She's been featured on the discovery channel the weather channel and the science channel for her work in specializing in sinkhole remediation.
Jim Miera has been involved with real estate in the Tampa Bay area for over 15 years. He specializes in doing rehabs of all sizes and also wholesaling properties to others! He loves transforming an ugly property to a masterpiece and adding value to a neighborhood! Jim really enjoys the "creative" side of real estate of solving real estate problems by connecting the dots to create positive results and a win/win outcome for everyone involved!
Derick Outar has been investing in real estate with friends and family since he was 20 years old and is a second generation real estate investor. He has lived in Pinellas county for 31 years and buys houses to flip, rentals, corporate rentals, vacation rentals and student rentals. He gave up the corporate America in 2012 and became a full time investor. Two of his homes have been featured at the Tampa REIA Onsite Renovation Group with Jim Miera.
RSVP NOW and come out and network with us, bring your masks and bring your questions to ask the experts! We hope to see you again in person or online!
*Please Note: Meeting agenda is subject to change.

At 6:00 PM in the Main Lobby, we have a Vendor Trade Show that lasts throughout the meeting where you can come out and meet many of our participating Business Members and Vendor Guests who help sponsor our meeting. See a full list of our vendors and sponsors below as they are added.
Vendor tables are limited, so any vendors wanting to reserve a table for the meeting can RSVP for a Vendor Table here. Vendor tables are reserved and setup on a first-come, first-serve basis.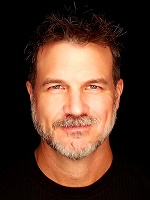 Starting at 6:30 PM, Dustin Griffin kicks off the Tampa REIA Main Monthly Event with updates and announcements. Dustin covers what's happening at Tampa REIA in the upcoming weeks and months such as upcoming workshops, webcasts, special events, members benefits and much more!
At a little after 6:45 PM, we will be having the Haves & Wants Speed Marketing Session which gives our members the opportunity to quickly market deals they HAVE and to find deals they WANT. We also give our business members the opportunity to get up and say a few words about their businesses. Members who want to participate in the Haves & Wants Marketing Session must bring your flyers and get to the meeting early to get on our list of participants.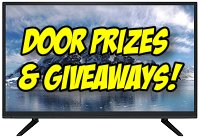 Door Prizes & Giveaways!*
All members who check in and attend the Tampa REIA Meeting will be entered into a drawing for a chance to win several Flat Screen LED TVs, a variety of Gift Cards (such as Home Depot, Lowes, Walmart, Amazon, etc), Flashlights, Phone Chargers and all sorts of other miscellaneous items that vary from meeting to meeting each month. *You must be present and in the room during the drawing to win. Door prizes and giveaways can change at any time for any reason. Non-Members and Vendors are not eligible to win.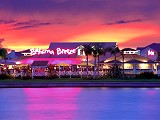 After the conclusion of the Tampa REIA Main Meeting (around 9:30PM), we will be reconvening at Bahama Breeze located at 3045 N Rocky Point Dr E in Tampa for the "Meeting after the Meeting" with Tampa REIA Crew. Come eat, drink, network and have fun with us as hang out late into the night on Tampa Bay!