Archive for May, 2021
Thu, May 13th
from 6PM-9PM Live & In Person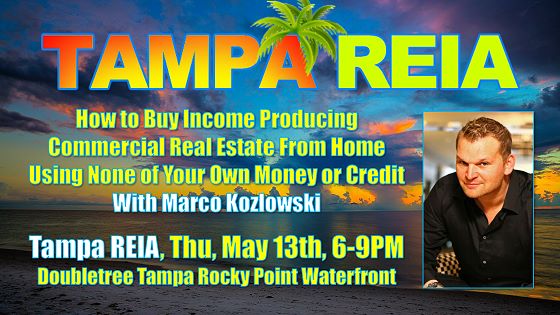 TAMPA REIA LIVE
Meeting & Vendor Tradeshow
Thu, May 13th, 6PM-9PM
How to Buy Income Producing Commercial Real Estate From Home Without Using Your Own Cash or Credit
with

Marco Kozlowski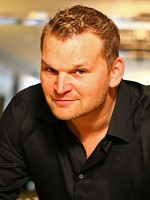 TAMPA REIA  meets on Thursday, May 13th from 6PM to 9PM with Marco Kozlowski at the Doubletree Tampa Rockypoint Waterfront located at 3050 North Rocky Point Dr. West in Tampa, FL.
At the meeting, Marco will teach you "How to Buy Income Producing Commercial Real Estate From Home, Using None of Your Own Cash or Credit!" That's right, Marco is going to show you how to buy commercial properties without pulling a dime out of your pocket using asset based lending.
Watch this short video from Marco…
How many units (apartments, houses, mobile homes, office suites, etc.) do you need to retire from your J.O.B. and live your dreams?
Here's some quick math…
Each unit = At least $200 / month 💰
5 units = $1,000 / month 💰💰
25 units = 45,000 / month 💰💰💰
50 units = 410,000 / month 💰💰💰💰
The kicker? Marco and his students buy every single property using NONE of their own cash or credit.
There are massive deals all across the U.S. And Yes, you can buy these deals from the comfort of your own home. Join Marco at Tampa REIA Live and learn how.
No need to travel — and you definitely shouldn't buy just because it's near where you live unless you prefer terrible to mediocre returns.
Join us at the meeting to see how you can:
Find deals at 30% off or more
Access billions of dollars available from vetted "asset based lenders"
Pull out 3k on your first deal at closing plus get cashflow for life
These are just a few of the gems you will learn from Marco, so Register to Attend Now and join us LIVE IN-PERSON on Thursday, May 13th from 6PM to 9PM to learn "How to Buy Cash Flowing Commercial Properties From The Comfort of Your Home, Using NONE of Your Own Money or Credit". See you there!
Commercial Real Estate Master Class: BTW, if you like what Marco has to teach you at the Tampa REIA Meeting, you will be glad to know he will be back on Saturday, May 22nd from 9AM-1PM for a special, LIVE In-Person & Online Master Class on How to Buy Income Producing Commercial Real Estate From Home, Using None of Your Own Money or Credit. If you've always wanted to learn how to invest in commercial real estate but didn't know how or where to get started or how to fund your deals, you've got two changes to learn this month at Tampa REIA on May 13th and the Master Class on May 22! Register for the Master Class Now!
*Meeting Day Agenda
*Please Note: Meeting agenda is subject to change.
Monthly Vendor Trade Show

At 6:00 PM in the Main Lobby, we have a Vendor Trade Show that lasts throughout the meeting where you can come out and meet many of our participating Business Members and Vendor Guests who help sponsor our meeting.
Vendor tables are limited, so any vendors wanting to reserve a table for the meeting can RSVP for a Vendor Table here. Vendor tables are reserved and setup on a first-come, first-serve basis.
Our Meeting Sponsors


Foreclosures & Probates Daily – We are a nationwide lead provider for Investors, Realtors and Attorneys. We provide leads to suit your real estate needs such as Probates, Pre Probates, Inheritance, Lis Pendens, Auctions, Absentee Owners, Tax lates and Cash Buyers just to name a few. Call Tangie at (813) 563-0005 Ext 2 for a FREE Demo! Read More>>

EquityPro Tampa Bay – A niche real estate brokerage specializing in investment real estate. Our team's primary focus is to help you identify properties that get you closer to your investment goals. Whether you are looking for rental properties, flips, just starting out, or you have purchased multiple properties, our team of Advisors can help. Read More>>

JM Real Estate Capital – Helping real estate investors fund their real estate projects. Whether you're looking to fix & flip or start a full scale real estate project, JM Real Estate Capital is your go to supporter. Have a question for our team? We're ready and happy to help. Read More>>
What's Happening at Tampa REIA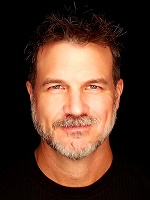 Starting at 6:30 PM, Dustin Griffin kicks off the Tampa REIA Main Monthly Event with updates and announcements. Dustin covers what's happening at Tampa REIA in the upcoming weeks and months such as upcoming workshops, webcasts, special events, members benefits and much more!
Haves & Wants Marketing Session
At a little after 6:45 PM, we will be having the Haves & Wants Speed Marketing Session which gives our members the opportunity to quickly market deals they HAVE and to find deals they WANT. We also give our business members the opportunity to get up and say a few words about their businesses. Members who want to participate in the Haves & Wants Marketing Session must bring your flyers and get to the meeting early to get on our list of participants.
Late Night Networking at Bahama Breeze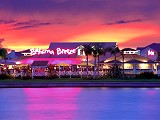 After the conclusion of the Tampa REIA Main Meeting (around 9:30PM), we will be reconvening at Bahama Breeze located at 3045 N Rocky Point Dr E in Tampa for the "Meeting after the Meeting" with Tampa REIA Crew. Come eat, drink, network and have fun with us as hang out late into the night on Tampa Bay!