VoiceNation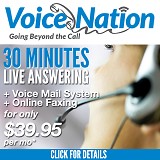 VoiceNation is a local company based out of Buford, Georgia.. Since 2001, they have provided virtual voice mail and live answering solutions to over 40,000 small businesses and real estate investors nationwide.
Our clients choose VoiceNation due to our focus on innovation and technology to fit the needs of every single customer we serve. Real Estate Investors specifically benefit tremendously from both our live answering services and our virtual voice mail systems.
Our award winning live answering services have set the bar for quality in the outsourced call center industry. A combination of a strict hiring process, ongoing staff development, fast answer times, and our competitive pricing model, make VoiceNation the preferred live answering service for thousands of small businesses and Real Estate Investors.
For a fraction of the cost of a full time receptionist our highly trained and professional live operators are standing by twenty four hours a day to take your calls. We work with each of our clients individually so we can train our own staff to work as an extension of your business as if we were right there in your office.
We also provide automated voice mail systems that can be incorporated to your Ad campaigns, lead capture, and your day to day operations for voice mail and faxing. Customers will have their own local or toll free phone number with all services provided by VoiceNation.