Tampa REIA Christmas Holiday Party is Dec 13, 2017 Sponsored by Greenleaf Title, Vesado and New Western Acquisitions
Posted on November 27, 2017 by
Wed, December 13th @ 6:30 PM @ Del Frisco's Grille, Tampa, FL
Tampa REIA wants to wish you and yours a very Merry Christmas and Happy Holidays! Come celebrate the Holidays with us on Wednesday, December 13th at 6:30PM at Del Frisco's Grille located at 4138 W Boy Scout Blvd in Tampa (Westshore) where we're having our annual Tampa REIA Christmas & Holiday Party!
The Christmas Party is being hosted by Dustin Griffin, David Minor, Denise Brown and Tangie Cousins of the Savvy Investor Networking Group. The party is being sponsored by GreenLeaf Title, VESADO and New Western Acquisitions.

Tampa REIA Members who RSVP can attend at NO CHARGE. If Tampa REIA Members wish to bring a guest who is a NON-Member, the can RSVP for $30 or pay $50 at the door. *Food and Beverage is included. RSVP Now & Reserve Your Spot!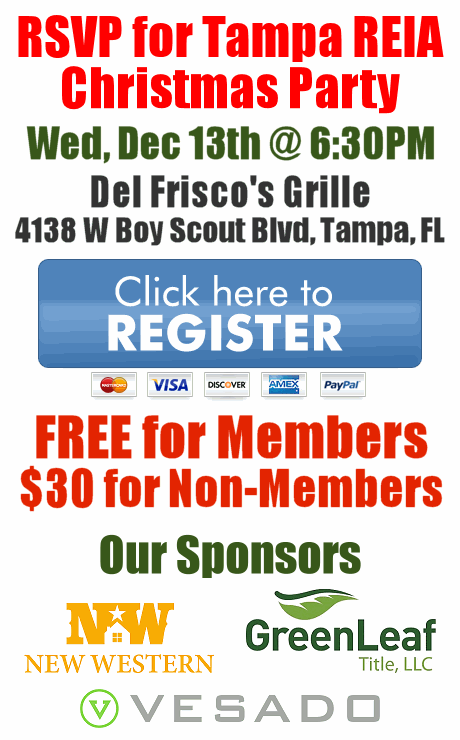 *PLEASE NOTE: Appetizers and a beverage (1st drink) will be provided for those who RSVP and show up on time while supplies last. Refills for soda, coffee and tea should be free. Attendees can also order off Del Frisco's menu and/or purchase additional beverages at their own expense if they wish.
Christmas Party Sponsors
Christmas Party Sponsors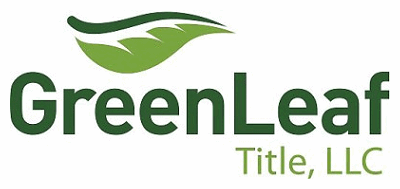 GreenLeaf Title, LLC is an attorney owned, truly investor friendly title company for all of your real estate closing needs. Covering the whole state of Florida, Greenleaf Title, LLC has multiple offices and offers mobile closings. With over 15 years of experience, Jennifer Powers and her team make closing distressed properties a team effort and as seamless as possible. We are excited to assist you in improving how you do real estate. Read More>>

New Western Acquisitions is an Investment Real Estate Brokerage whose primary focus is to provide discounted assets to real estate investors. Since 2008, New Western has acquired over 11,000 properties for over 2 billion dollars in real estate making in 18 metro areas them one of the largest buyers/sellers of distressed single family investment properties in the nation. They were able to do this by guiding investors from a-z and back again providing discounted properties, in house financing, access to local contractors, and resources for any exit strategy. New Western has offices in both Saint Petersburg and Tampa to help them serve all of the greater Tampa Bay area. Read More>>

VESADO – Our team of experts have an intricate understanding of every aspect of real estate investing. Whether you are working on your first investment property or you're buying your fiftieth we have the resources and knowledge to exceed your expectations. Read More>>