Jon & Stephanie Iannotti
Posted on February 28, 2014 by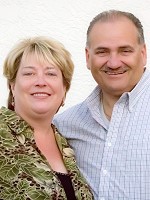 Jon & Stephanie Iannotti are Amazon #1 Best Selling Authors of "The New Masters of Real Estate, Getting Deals Done in the New Economy."  12 of the 18 contributing authors were mentored or coached by them personally.  They are also National Speakers and National & International Mentors to well over 250 students over the past few years.
With over 30 years combined experience in Real Estate Investing/Teaching, and Mentoring and over 1500 creative deals under their belts, they are considered one of the best in the industry.  They have also come up with some amazing ways to structure deals that are cutting edge and they have done many deals with their student partners using these state of the art techniques which are now being taught across the country and internationally. 
They have trained and worked with some of the biggest names in Real Estate Investing.  To name a few, Ron LeGrand, Robin Thompson, Lee Phillips, Al Aiello, Ted Thomas, and many others.
Having seen a need for another REIA in the Southwest Florida Region, Jon & Stephanie approached some of their associates and decided to form the Florida Gulf Coast Real Estate Investing Alliance. They are looking forward to continuing to bring knowledge and training to as many Investors as possible and are always continuing to keep their skills fine-tuned and cutting edge so that their knowledge can be passed to those that they associate with.   Their motto for Real Estate Investing…."Knowledge is key, Timing is crucial, Location is important and having a Mentor or Coach will keep you on the path to Success!"