What Box? A Full Day Creative Real Estate Investing Workshop with Bill Cook
Posted on April 14, 2016 by
Sat, April 16th – Tampa, FL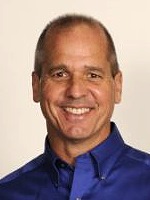 Real Estate Investors in the know, understand that to be successful, it's NOT about working outside the box. It's realizing that THERE IS NO BOX!
Be sure to join us on Saturday, April 16th at 9AM at the DoubleTree Suites Tampa Bay at 3050 N Rocky Point Dr W in Tampa, FL for a Full Day Workshop with Creative Real Estate Expert, Bill Cook. At the Workshop, Bill is going to help you think through deals that seem impossible and show you how all deals are possible!
This nothing-else-like-it seminar was born with a phone call. Bill Cook was working a deal that had six moving parts. Trying to simplify his offer, Bill called his good friend Pete Fortunato. Pete helped Bill construct an offer that reduced the moving parts from six down to two. The seller accepted Bill's offer!
Afterward, Bill wrote a newspaper column titled: Pete Fortunato – The Greatest Outside The Box Thinker. When Pete read Bill's article, he sent him a two-word email. All it said was: What Box?
The lesson: All deals are possible – There is no box!
An investor's two most powerful tools are curiosity and imagination. If kept in a box, both will die! To thrive, your curiosity and imagination must be allowed to run free so they can creatively construct and fund win-win deals.
Remember: Deals aren't found. Opportunities are found. Deals are constructed!
One of the biggest problems investors face is trying to put together deals using boilerplate thinking and boilerplate documents. Sadly – for most investors – if the square peg isn't fitting in the round hole, they give up on the deal. Their inside-the-box thinking keeps them from achieving the huge success that's right at their fingertips!
Attend this event and get these all-important questions answered:
How do you make impossible deals possible?
How do you creatively construct and fund win-win deals without going to banks?
What's the fastest, cheapest and most effective way to get face-to-face with sellers?
What are the most important questions to ask a seller?
What's the most important thing you see at a seller's home?
Why do sellers NOT want cash?
Why do single-family homes make the best rentals?
How can you get an 80% yield from a mobile home?
Why is the deal after the deal so important to future wealth!
What types of deals are working in today's market?
Why is real estate investing a team sport?
Get all this for a mere $49 per person for Gold Members, $69 per person for Silver Members & $99 per person for Non-Members and Guests.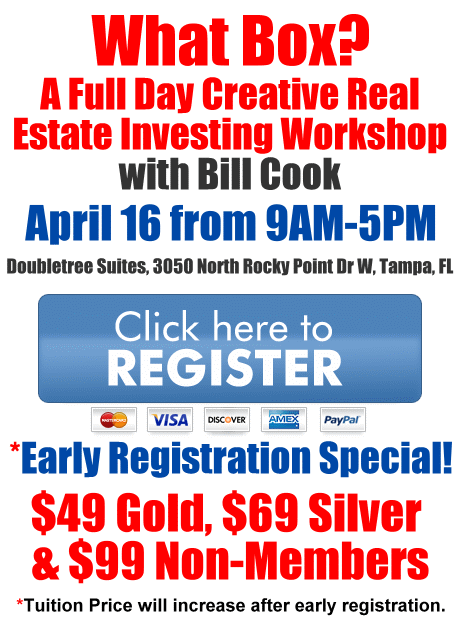 PLEASE NOTE: Workshop prices will increase to $69/person for Gold Members, $89/person for Silver Members and $129/person for Non-Members and guests after early registration expires, so register now and save!