Tampa REIA Training Updates
Posted on May 16, 2016 by
Saturday, June 18th at 9AM in Tampa, FL
Join us for a REAL, LIVE, HANDS-ON…
Door Knocking Field Trip
Meeting Sellers and Making Written Offers
With Bill Cook
Saturday, June 18th from 9AM-4PM
Meet at McDonald's at 6505 S. Dale Mabry Hwy, Tampa, FL at 8AM for Breakfast. Registration & Sign-in at 8:30AM
Do you want to SEE and EXPERIENCE the fastest, cheapest, most effective way to get face-to-face with motivated sellers?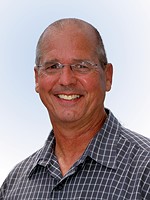 If so, then please join me, Bill Cook, for a day full of door knocking with real sellers on Saturday, June 18th from 9AM – 4PM. We'll meet at McDonald's located at 6505 S. Dale Mabry Hwy in Tampa near Ballast Point at 8AM if you want to have breakfast with us at your own expense. Registration and sign-in begins at 8:30AM. The event starts at 9AM. We will then spend the day out talking to sellers and constructing win-win deals at their kitchen tables.
Have you ever spent the day with a seasoned investor getting face-to-face with homeowners and sellers and making written offers? Do you want to?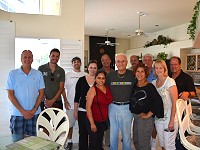 On Saturday, June 18th, Bill Cook will take a select group of real estate investors from Tampa into local neighborhoods and show them:
What to

say

to a seller!
Where to

stand

after knocking on a homeowner's door!
How to get

8 out of 10 sellers

to

invite

you in!
How to make a

written

offer right there on the spot!
This isn't classroom theory stuff. It's a 100% real-world experience!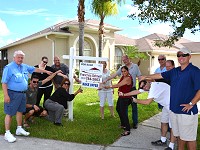 Most real estate investing teachers can talk-the-talk, but how many have you watched walk-the-walk? This will be a one-of-a-kind event. No other investing teacher does what Bill does!
Bill and Kim built their real estate investing business square on the back of knocking on sellers' doors. They've been doing this for more than 20 years!
The 10 Most Important Things You'll SEE Door-knocking with Bill on June 18th:
What's the

fastest

,

cheapest

and

most effective

way to build your investing business
What to say to a seller…and the most important questions to ask
How to get 8 out of 10 sellers to

invite

you in
How to write a

win-win

offer right there on the spot
Why you should never look for deals
Why it's critical to be curious
Why the rainmaker is king
The best way to find a property's FMV (fair market value)
The best way to find a neighborhood's FMR (fair market rent)
The best way to learn things about a vacant property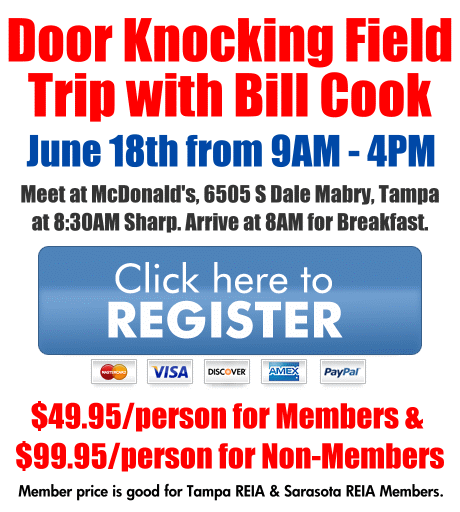 Will you learn something new? You bet! Will you see things you've never seen before? Positively! Will you be able to take what you've learned and put it to use the next day? Absolutely!
Bill and Kim have tons of experience at creatively constructing and funding win-win deals. Their investing portfolio is made up of single-family rental homes, mobile homes, a small mobile home park, plus notes and options.
Contact us now if you want to go out and watch Bill talk to homeowners and sellers, learn how he gets 8 out of 10 sellers to invite him in, and how he makes written offers right there on the spot!
We promise that you'll see things you've never seen before – or will ever see again!
Here's a ratio for you: If I talk to 10 sellers at the door, 8 will invite me in – EIGHT! Are you getting this kind of result from your bandit signs or website? A question for you: To be a successful real estate investor, do you need to meet with more sellers or less sellers?
While real estate investing is simple, it's anything but easy. To be successful, the MOST important thing you must do is get face-to-face with sellers on a regular basis. Nothing takes the place of this. NOTHING! It's the alpha and omega of real estate investing!
Your next question is probably: "Bill, what qualifies you to teach folks how to door knock and meet with sellers?" Beginning in 1978, I put myself through college selling Electrolux vacuums door-to-door. In 1995, I switched from Electrolux and became a full-time real estate investor. No one else in the country has this amount of experience at homeowners' doors.
You are either serious about real estate investing or you're not. If working 40 hours a week for the man isn't your idea of financial freedom, if you're a round peg who is being forced to fit in into a square hole, then come spend the day with me. It will be time well spent. And at the end of the day, if you feel that it wasn't, I'll gladly refund your hard-earned money with no questions asked.
Looking forward to having you join me. Remember, I LOVE questions! See you there!
Bill Cook