Land Trust Online Workshop with Larry Harbolt on May 30, 2020
Posted on May 10, 2020 by
Sat, May 30th ONLINE WORKSHOP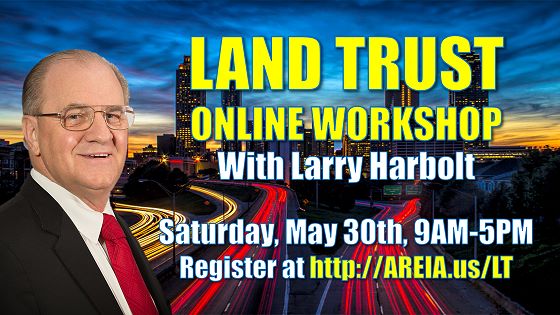 LAND TRUST
Online Workshop
Learn How to Protect Your Real Estate from Lawsuit Happy People!
A Full Day Online Workshop
with Larry Harbolt
If You Own Any Properties in Your Own Name, You Have A Huge Target on Your Back the Size of Georgia!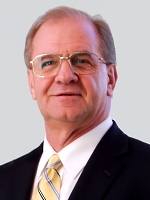 The real estate market is and has always been a very competitive industry, but with the looming global Covid-19 crisis and with lenders beginning to increase their lending requirements, there is going to be a major change in our market.
Fact: 1 in every 12 people in this country will be involved in a lawsuit this year.
Fact: Frivolous lawsuits are a $5 Billion Dollar business affecting many unsuspecting and innocent people each year.
Fact: Every year at least 40,000,000 (forty million) lawsuits are filed throughout this country costing us millions of dollars.
Over the years I have figured out different ways to use the Land Trusts to keep your personal real estate business information confidential while at the same time using a trust to wholesale houses acquired from banks and government agencies.
If you act now before its too late, it will be nearly impossible to find out exactly what you own and where your treasures are located.
Why not make it a guessing game for anyone that wants to sue you trying to figure out what you own and what your real estate portfolio is worth? If you use the Land Trust correctly, they will never know for sure what properties you own, or if you own any properties at all.
Ask Yourself These Questions:
Do you need to be sure that your heirs can transfer title to your properties as they see fit without being tied up in probate?
Do you need to protect your property from liens and judgments caused by issues that are not your fault, such as those from business partners, ex-spouses or other family members?
Do you want your investment properties to be better protected from lawsuits that may arise from an auto accident for which you are unjustly sued?
Do you want to keep liens or judgments related to your property from being reported to your personal credit report?
Do you want to keep governmental inspectors, regulators or corporate investigators from knowing where all of the properties you own are located, and possibly linking a problem at one property to all of the others you own?
If You Answered YES to Any of These Questions You NEED to Know More About How the Land Trust Can Help Protect You From Lawsuit Happy America!
Join me, Larry Harbolt, on Saturday, May 30th from 9AM to 5PM at the LAND TRUST ONLINE WORKSHOP with Atlanta REIA.
Here is some of what you will learn at the Land Trust Online Workshop…
What Is a Land Trust and What Does It Do to Help Make You Invisible and Protect You?
Why Owning a Property in a Land Trust Keeps What You Own Private?
How to Own Multiple Properties without Anyone Ever Knowing.
How to Remove the Target from Your Back to keep Lawsuit Happy Americans From Coming for What You Worked Hard For.
How to Keep Anyone Trying to Sue You Paying Their Attorney For Many Months Because They Keep Running Into Dead-Ends Forcing Them to Continually Rethink Their Aggressive Pursuit Strategies!
Why Owning a Property In a Land Trust Is Better Than Owning It In a Corporation or Limited Liability Company.
Who the Key Players In a Land Trust Are and Where You Can Find Them.
Who Would Be the Best Candidate to Be Your Trustee and Why?
Who Can Be the Beneficiary(s) of Your Land Trust and Why.
How to Use the Land Trust to Sell Real Estate So You Will Never Have to Foreclose If the Buyer Defaults.
What Paperwork and Forms You Need to Help Protect Your Real Estate.
All this, answers to your questions and much more!
Be sure to REGISTER FOR THE LAND TRUST ONLINE WORKSHOP NOW and join me at this full day training so you can learn to avoid unnecessary lawsuits and avoid sleepless nights worring about whether or not you're going to lose everything you've worked so hard to achieve. We look forward to seeing you there!