Order Lonnie Scrugg's New Book Today for FREE!!!
Posted on January 25, 2013 by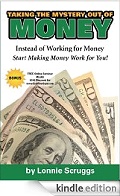 Folks,
Lonnie Scruggs, the father of Lonnie Deals, published a new book today: Taking the Mystery Out of Money
You can download it today AND TODAY ONLY for F-R-E-E!
Lonnie is a national treasure and one of the most talented and successful real estate investors in the country. We LOVE this guy!!!
Here's a link to down load his his book. Again, it's free for today and today ONLY!
LINK: http://www.amazon.com/Taking-Mystery-Out-Money-ebook/dp/B0036ZAO6Q
Bill Cook