The Chaos of Foreclosure Morning
Posted on July 3, 2012 by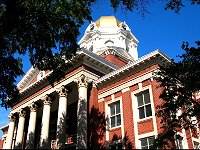 Most mornings I'm at my desk and working by 4:30 a.m. This is especially true on the first Tuesday of each month – this is the day Georgia's foreclosure properties are auctioned off.
If you've seen Kim and me at the auction in Bartow County, we usually look calm, cool and collected…everything under control. Just wish you could see us a few hours before the auction starts – the picture is VERY different!
Foreclosure morning is chaos around here. Papers are flying around, computer keyboards click furiously, our foreclosure book is flipped through continuously, and the phone rings incessantly! It truly is something to behold.
As an example, let's look at what happened the morning of last month's foreclosure auction.
The night before the auction, as is often the case, Kim and I were totally prepared for the next day's sale. We had inspected all of that month's foreclosure properties, had narrowed the 160 advertised properties down to four targets, and had done our due diligence and picked one property to bid on. One of our private-money lenders had already given us the needed purchase-money funds. We couldn't have been better prepared.
Tuesday morning comes. One last time, Kim and I review the info on our target property on River Oak in Euharlee, Georgia. All is well. We also look at the different foreclosing attorneys' websites to see if any properties have a surprisingly low opening bid.
About 7:45 a.m. Kim shouts, "Bill, JR Road is opening at $80,000!" "What, an $80,000 opening bid on a $190,000 property? Are you serious?" I questioned. "Yes!!!" Kim hollers back. Chaos ensues!
Here's what had just happened: Earlier that month, we had been by a property on JR Road that was in foreclosure. The property was a huge five-bedroom, three-bath home, on five acres just off Highway 20 in Cartersville, Georgia. In 2006, it was worth $300,000. Today, the value is down to about $190,000. Because the owner owed the lender about $280,000, we thought the opening bid would be around what was owed – so this wasn't one of our target properties. Shockingly, the lender dropped the opening bid down to $80,000!
I'm far from being the smartest guy in the room, but even I can figure out that buying a $190,000 property on five acres for $80,000 is a GREAT deal!
The work began. Kim quickly did a full lookup on the property. Everything looked good. I drove by the property just to make sure it was still standing and in good shape. It was. Kim and I determined that our top offer price would be $110,000.
We only had one problem: It was 9:15 a.m., the auction started in 45 minutes and we were exactly $110,000 light of having the money we needed to buy this property. You see, when you buy a property at the foreclosure auction, you must pay in full – cash (or certified funds) on the barrelhead – right then and right there.
I called several of our of private-money lenders. Because it was a last minute thing, we were only able to gather $91,000.
At the auction, the property opened at $80,137.00. Our top bid was $91,000 but another real estate investing team out bid us.
Two ways to look at this: We could be upset we didn't get the deal or we could be proud that we were there to play. We're always glad we can play. We get the deals we're supposed to get and not the ones we're not supposed to get – simple as that.

Bill & Kim Cook are a husband and wife real estate investing team. They live in Adairsville, Georgia and have been investing in real estate since 1995. They specialize in buying single-family homes, mobile homes and mobile home parks. They also run North Georgia REIA and teach folks how to successfully invest in real estate.