The Anatomy of a $10K Wholesale Flip
Posted on April 5, 2013 by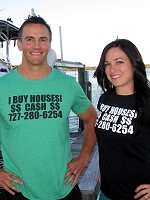 When you hear most real estate "guru's" talk about how to do real estate deals, they make it sound so easy, and it gets you pumped up – right?  But most of the time they are giving us very high level information.  Usually not the nuts and bolts mechanics of an actual deal – it leaves us wanting more.  As new real estate investors, I know we are always wanting to know a little more to make us feel more comfortable to know that this stuff actually works.  Can you relate to that?
That's why in this article we wanted to share with you an actual case study of a deal that we did just last month( March 2013 if you are reading this in the future).  We'll provide the nitty gritty details of a deal where we make an even $10K on a Wholesale Flip.  We did it pretty much the same way most "guru's" describe that the deal is going to go.  It was an easy one with very little hiccups, which is usually never the case unfortunately, but they do happen every once in a while (THANK GOODNESS!).
Quickly, as a precursor, we have only been in the business about 9 months, so this is still new to us and we have much to learn, we just want to show you that if you take action and follow some simple steps like we did, these deals do happen.
So we had been "Driving for Dollars" and sending out "Yellow Letters" to property owners of properties we had identified while driving around as looking like distressed or vacant properties.  Still to this day, we're not exactly sure how this one got on our list because this property didn't necessarily look distressed.  Courtney decided to mail this one because she was mailing to a few others on the street, looked this one up and saw it was an absentee owner.  That's our theory anyway.  Sometimes the random ones are the ones that work.  It's a numbers game anyway so you never know what someone's situation is going to be at that exact moment they get a letter from you.
The property was a multi-family in a nicer area of town, and the property owner lived about 40 minutes away.  He called off of our "Yellow Letter" and said he'd be interested in selling mainly because he was tired of the drive to manage the property.  I think this was back in November time frame.  Courtney passed the info to me and said the seller wouldn't name a price.  I was supposed to follow up and make an offer, but I think the lead fell thru the cracks.  I believe I was consumed at the time b/c we had just gotten around 12 properties under contract and I was focused on that.  My fault for sure.
Luckily for us, we did a 2nd mailing to our previously mailed list in February.  The same seller called us back and said, "Hey Courtney – I already told you I wanted to sell you my property – let's make a deal".  He still wanted $125K.  I did some property evaluation and analysis of the area and there were properties in the area in the $250K-$400K range, so I figured offering $125K might work out.  So we wrote up a purchase contract to the seller for $125K.  This was all done over the phone and email so far.  After the seller accepted the offer, Courtney went out to meet him and take pictures of the property as we had not really even looked at it at this point.  We needed to make sure the property was not falling over and that it was in decent shape to justify the price.  After the meeting, Courtney felt it looked in pretty good shape.
So at that point we were ready to market the property to our "Buyer's List".  We had built a decent list of "Cash Buyers" in the area over the past 6 months or so – 100 or so.  We felt making $10K on this deal would be nice, so we advertised it for $135K.  On a Tuesday night we sent out the details of the property to the list.  Turns out we had a hot one on our hands.  Within an hour or so we had someone that wanted it.  This buyer drove by the property on Wednesday and confirmed he wanted it.  So we wrote up an "Assignment Contract" to the new buyer for a $10K "Assignment Fee" and instructed him to put down a deposit at our preferred Title Company.  The buyer was familiar with the whole process and did not bat an eye at our $10K assignment fee.
The buyer did need to do a quick walkthrough to be sure there were no issues on his end.  We had to coordinate with the seller to let our buyer do a walkthrough.  We were not going to be there for this, so we were slightly nervous about letting the seller and new buyer talk without us being there, but the new buyer assured us he would be cool about it and not tamper with the deal.  So that was on Friday.  The new buyer said everything looked good and was ready to pull the trigger on the deal – so we set closing for the following Friday after that.
The following Friday rolls around and I'm communicating with my Title person, who is awesome by the way!  Things usually tend to start going wrong when it comes to closing time it seems like.  How was the seller going to feel about us assigning our contract for $10K?  We didn't really explain it to our seller other than saying we were partnering up with another company on the deal.  Turns out the seller didn't have any issues with it and was all ready to sign off on the deal.  So I check with my Title person that afternoon and she says everything went smooth – the new buyer wired in the funds, and the seller got their money.  And the best part, my $10K check was there for us to pick up.  Yay!
OK – really the best part of the story is that when I went to the Title Co to pick up the check, I looked at the HUD-1.  I saw my $10K assignment fee on there.  Cool.  Right below that, I saw my new buyer's $25K assignment fee added on as well.  What??!!!  Yep – turns out he assigned "his" assignment contract to somebody else for $25K.  He had lined up an even bigger "buyer".  So the "new" new buyer paid $160K for the property ( $125K + $35K in assignment fees).  Turns out they thought that was a great deal even at that price. 
Moral of the story – yes – we were thrilled to make $10K.  Yes – we feel like we could have made a lot more.  But to make $10K on a deal that we spent 4 hours of total time on is awesome.  I never even met the seller or saw the property.  Courtney only did once for about 20 minutes.  I've spent countless hours on deals that we only made $1000 on.  So we will take these easy deals any day.  Moral #2 – follow up is KEY.  Moral #3 – $10K AND $25K assignment fees are real!
So get out there and start marketing to motivated sellers.  You never know what can happen if you aren't doing any marketing.  Find a great deal and the money will find you.  We hope this was a good case study that will get you motivated to get out there and get some deals.  We're here to help.  Be sure to visit www.MrandMrsQuickflip.com for more good information on making fast cash with quick flip real estate.  Good Luck!!