Want an Estimate on that House? It's a Snap!
Posted on August 6, 2012 by
"Knowledge is of two kinds. We know a subject ourselves, or we know where we can find information upon it." Samuel Johnson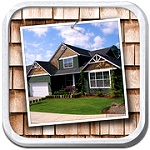 This looks like a great place to invest. There are decent cars in the driveways. Lawns are mowed. Flowerbeds are neat. I feel safe. Houses don't look too expensive and would probably cash flow. I wonder what that great little Cape Cod with the white picket fence is going for?"
Well, now there's an iPhone app that can tell you that, and more.
Homesnap is a free app that you can use on your iPhone and iPad. Just snap a picture of the house and it'll give you an estimate of the house's sales price, tell you how many bedrooms and baths it has, its square footage and even what schools are associated with the house. And if you know me, you know that I really care what school district a house is in – because my tenants and buyers really care about schools, too.
Homesnap uses the GPS and other 'sensors' in the iPhone and iPad to locate where you are and pull information from MLS and other public records. So it can tell you the sales history of the house, too — which is pretty cool if you're standing in front of an abandoned house that looks like a great wholesale property. (Note to bird dogs: this is a must have app!)
Or if you're standing in front of a house that's listed, you can check the listing history, send a request to the agent for more information about the house, or even automatically call the agent from your iPhone. You can even look at interior pictures that have been posted, and call up similar listings and recent sales.
There's also something called 'stealth' mode, where you can pull an aerial view of the neighborhood and pull information for surrounding houses. So you can be standing in a burned out living room and see what the houses next door and behind the are worth to get an idea of the after repair value.
I tried this app in my neighborhood and it's pretty accurate. There were a couple of houses that I knew were worth substantially more than shown, or that I knew had a different number of bedrooms and baths, but generally speaking it was pretty much on the mark. And the app has a feature that lets you report any errors you find so the developer can update its database. In fact, unless you specify otherwise, the pictures you take will populate their database, which helps their information sharing.
I also like the fact that it keeps track of the houses I've looked at to easily review later. So I don't have to remember how much specific houses are worth.
Sawbuck Realty, Homesnap's developer, says they have data on over 90 million houses across the U.S. They pull MLS data for 13 of the largest metro areas in the country, and will be adding more cities by the end of the year.
This is definitely an app you should download to your iPhone or iPad. It's free. It's easy. And, if you're in the right city, it gives you immediate access to MLS data that you'd have to go through an agent to get. As an investor, that's worth a lot. Give it a try and let me know what you think.