Download the January 2018 Edition of The Profit Newsletter. Happy New Year!
Posted on January 5, 2018 by
The Profit Newsletter for Tampa REIA January 2018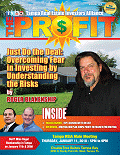 The January 2018 edition of The Profit Newsletter is now available for download as a High Quality PDF (print quality) or Low Res PDF for mobile devices. The Profit Newsletter is the official newsletter of the Tampa Real Estate Investors Alliance and is a digital, interactive newsletter for serious real estate investors delivered as an Adobe PDF file to read on your computer, tablet, or smart phone with a PDF reader. Many of the articles and ads in The Profit contain hyperlinks you can click to get more information online. The high res version of The Profit is "print ready" while the low res version will load faster on your mobile device. Also, be sure to Subscribe to The Profit so you don't miss a single monthly issue.

High Quality PDF
/
Low Res PDF
See
The Profit Archives
for our past editions.