Tampa REIA & The Profit Have Arrived!
Posted on July 3, 2012 by

The Tampa Real Estate Investors Alliance (aka "Tampa REIA") is a new Tampa Bay real estate investors association for new and experienced real estate investors, real estate entrepreneurs and other real estate professionals who invest and do business in the real estate industry.
Tampa REIA's purpose is to help promote our members' real estate investing and business success by providing extremely affordable, high quality, relevant real estate investing information and education, as well as frequent, fun and rewarding real estate networking opportunities. Our goal is to be the premier educational and networking organization for real estate professionals in the Tampa Bay area.
We will achieve these goals through our meetings, special interest groups, networking events, seminars, webcasts, workshops, retreats, bus tours, charity workdays and other member benefits such as big discounts from suppliers such as Lowe's, Sun Belt Tool Rentals, Sherwin Williams, Sears Commercial, Sprint, Nextel, Rent Fast, Build a Sign, Super Smart and our business members and industry partners.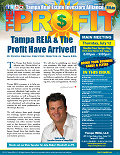 We will also be publishing our brand new newsletter, The Profit, which will be delivered each month a week or so prior to the Tampa REIA Main Monthly Meeting. The purpose of The Profit is to help keep you and our members, friends and followers updated on all the ups and downs of the real estate market; changing laws, rules and regulations; the latest real estate investing techniques, strategies and so much more.
The Profit is also designed to keep you and our other subscribers updated and informed of all the events and happenings going on at Tampa REIA each month as well as exposing you to a wide variety of speakers, trainers, mentors, experts, vendors and suppliers serving the real estate industry.
The Profit will have a wide variety of local and national real estate experts such as Larry Harbolt, Kathy Kennebrook, Robyn Thompson, Bob Massey, Don DeRosa, Russ Hiner, Jim Hitt, Erven Kimble, Tony Pearl, myself and many others contributing articles each month on a wide variety of topics such as marketing, deal structuring, creative financing, wholesaling, renovations, real estate tools, apps, technology and much more.
You'll also notice The Profit is an interactive, digital newsletter with many articles and ads that are clickable and will open up to various webpages in your favorite browser on your PC, Mac, smart phone or iPad. For example, many of the articles will have links to contact the authors, follow them on Facebook, visit their website and comment on their articles and interact with them on TampaREIA.com.
Tampa REIA and The Profit have arrived! We hope you enjoy The Profit, read it often and will share it with your friends and family. For more information on The Profit, see https://tampareia.com/the-profit/. Enjoy!