Lawrence Malloy
Posted on May 5, 2018 by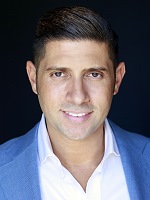 Lawrence Malloy is the owner and CEO of the investment company, Ethical Home Buyers, National Speaker, Investor Coach, Mentor, President of GOREIA (Greater Orlando Real Estate Investors Association) and is a licensed Real Estate agent in Florida. Throughout the past 15 years, by using his various dynamic approaches to marketing, he has bought and sold over 400+ properties from as low as $3,000 to as high as $1.6 million.
Through years of education from the very best in the industry of Real Estate investing, personal development and leadership training, Lawrence has developed his own unique approach to acquiring investment properties and running an investment firm like a fine oiled machine.
Coined "The Acquisition Artist™" for his expertise in acquiring investment properties through face-to-face negotiations and his ability to creatively structure deals in a multitude of ways. While the core of his business is buying and selling real estate, his true passion is teaching, coaching and mentoring people to help them achieve financial freedom.