Archive for March 2013
Posted on March 11, 2013 by
What is the first thing you need to do for your first or next successful real estate deal? You need leads of course. How many leads do you need to do one single deal? If you are a new investor or even a seasoned one, you may need to go through as many as 10 leads to get one solid, profitable deal.
So how many leads are you generating each month? Are you generating 5, 10, 15, 20, 30, 40 or 50 leads per month? If you are not generating at least 50 leads per month, you are not alone. Most investors don't generate anywhere near 50 leads per month. In fact, it has been said that only the top 5% of all real estate investors generate and capture 80% of all the leads floating around out there. So what do these top investors know that the average investor doesn't know?
The answer is simple… the top 5% of all investors know how to generate all the leads they can handle and more. Perhaps you know some of the top lead generating real estate investors in your area. Chances are you see their marketing efforts every time you turn around.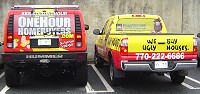 One such investing company that you should all be familiar with is HomeVestors®, the nice folks with the "We Buy Ugly Houses®" signs all over town. HomeVestors® used to be a huge 800 Pound Gorilla before the housing market crash, but as of mid-2012, they are back in force and are quickly regaining their marketing dominance once more. 
An "800 Pound Gorilla" is "One that is dominating or uncontrollable because of its great size and power" or "An overbearing entity in a specific industry or sphere of activity". An 800 Pound Gorilla is "A seemingly unbeatable presence always to be reckoned with, whose experience, influence, and skill threatens to defeat competitors with little effort." As the number one home buying franchise in the country, you can see how HomeVestors® definitely fits the description of an 800 Pound Gorilla Marketer. Read More→