Beach REIA Meets on October 19th in Madeira Beach
Posted on October 17, 2017 by
Thurs, October 19th @ 6:30PM in Madeira Beach, FL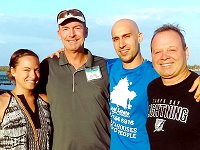 Beach REIA meets every 3rd Thursday at 6:30PM at Hooters located at 192 W Boardwalk Pl in Madeira Beach, FL. Beach REIA is hosted by Courtney Larsen, Mark Lepzinski, Rex Gaugh and Elia Luti.
There is NO FEE TO ATTEND and EVERYONE IS WELCOME for an evening of networking and fun with other active, successful, like-minded real estate investors.
There is no agenda other than getting together, having fun, networking and making as many deals happen as possible.
Our goal is to get the Real Estate Investing community together in a fun setting where we can discuss opportunities, ideas, brainstorm, network, and figure out additional ways to help each other make more money investing in real estate.
Again, there is no agenda, no fee to attend and everyone is welcome! So come on out and network with us and let's have a good time and talk about deals!
Bring your friends, bring your business cards and flyers, bring your haves and wants and LET'S DO SOME DEALS! See you there!