An Evening with a REO and Lease-Purchase Expert at BIG
Posted on August 11, 2020 by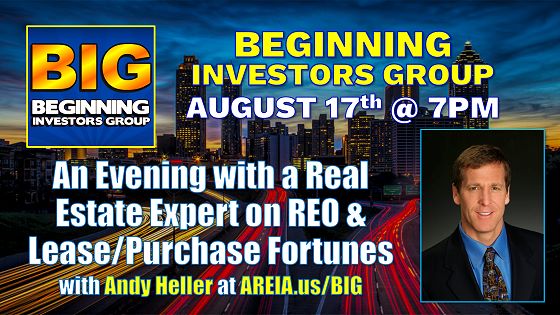 An Evening with a Real Estate Expert on REO & Lease-Purchase Fortunes
with

Andy Heller
Join us at the Beginning Investors Group (BIG) on Monday, August 17th at 7PM ONLINE at http://AREIA.us/BIG for an Evening with a Real Estate Expert with special guest, Andy Heller who will be taking questions regarding REOs and Lease/Purchase deals in the age of Covid and the "new normal" we are currently experiencing.
Imagine if it was 2007 again and you had insight into what would happen to the real estate market in the coming months, and how to turn this window of opportunity into a lifetime of riches! Well today we are seeing drastic increases in mortgage delinquencies, 90 day lates, divorces, bankruptcies, etc.
What does that mean to you as an investor and how do you capitalize on the flood of REOs that will likely follow? Many economists are comparing today to 2007, a window of time before a real estate reset. The signs today resemble what we saw in 2007, but obviously for different reasons.
Investors may be looking at the opportunity of a lifetime in the coming months and years. Arguably, the top two real estate investing strategies that follow rises in mortgage delinquencies are REOs and Lease/Purchases.
You will learn about BOTH these strategies at BIG and have a chance to grill real estate author and investor Andy Heller. 2020 could be your 2007, so investors buckle up and prepare and start by joining us on Monday night at ONLINE at http://AREIA.us/BIG. RSVP NOW, get your questions ready and come join us for the webinar!
As always, Atlanta REIA, Tampa REIA, Savannah REIA & Chattanooga REIA Members can attend this Online Meeting at no charge and not-yet-members can RSVP Online for $20.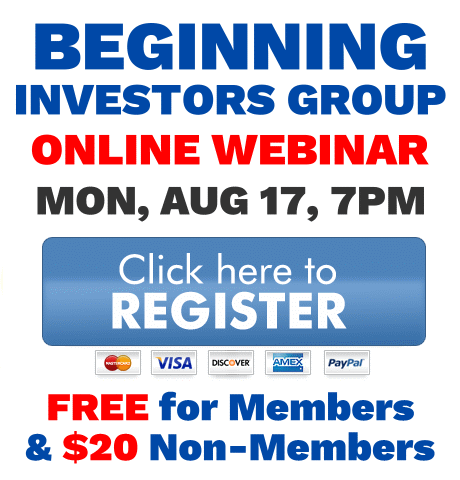 Andy was born in Canada, raised in Florida, has lived for many years in Georgia and California, and has studied real estate markets throughout North America. He has helped countless people in their efforts to realize their dreams, and he is ready to share his knowledge to simply and easily put you on the road to financial freedom.
Andy Heller's primary market for investing is Atlanta GA, so we will have BOTH a nationally respected expert in REOs and Lease Options, and one who is intimately familiar with our home market
Andy Heller grew up in Tampa Bay, and other than Atlanta, Andy knows Tampa Bay better than any other market in the United States and has watched first hand as Tampa has grown the past 40 years.
The Beginning Investors Group (BIG) is an educational and networking group for new investors who are just getting started in real estate investing as well as "new again" real estate investors who've taken a few years off and are looking to get back in the game.

BIG is hosted by Dustin Griffin who will be bringing in local and national real estate experts to teach new investors how to survive and thrive in our ever changing economy and real estate market.The entire purpose of the group is to help new investors get their first deal and help new again investors get their next deal.