Evening with an Expert on Short Term Rentals at BIG
Posted on September 18, 2020 by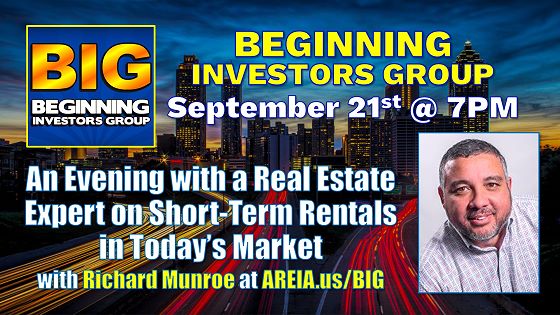 An Evening with an Expert
on Short-Term Rentals
with

Richard Munroe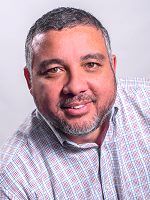 Join us at the Beginning Investors Group (BIG) on Monday, September 21st at 7PM ONLINE at http://AREIA.us/BIG for an Evening with a Real Estate Expert with special guest, Richard Munroe who will be taking questions regarding Short-Term Rentals in the age of Covid and the "new normal" we are currently living through.
We've seen moratoriums on short-term renteals in both Georgia and Florida when Covid first hit. Corporate travel and tourism has been down for months as more and more people are working from home and traveling less. Many hotels are still at 10 – 20% occupancy.
You may know some fellow investors whose short-term rentals were wiped out by Covid while others while others are prospering and building their inventory as fast as they can.
Richard Munroe is a Short-Term Rental Investor and leader of our Short-Term Rental Owners Networking Group (STRONG), and he hasn't missed a beat. He is actively picking up short-term rental properties as fast as he can.
Join us on Monday evening ONLINE at http://AREIA.us/BIG and learn the pros and cons and do's and don'ts of controlling and/or owning short-term rentals. Find out what's working and what's not in the short-term rental market. Is it time to get in or get out? RSVP NOW and get your questions ready and come join us for the webinar!
As always, Atlanta REIA, Tampa REIA, Savannah REIA & Chattanooga REIA Members can attend this Online Meeting at no charge and not-yet-members can RSVP Online for $20.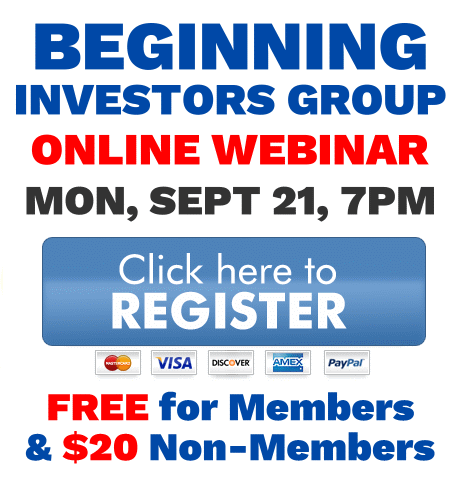 The Beginning Investors Group (BIG) is an educational and networking group for new investors who are just getting started in real estate investing as well as "new again" real estate investors who've taken a few years off and are looking to get back in the game.

BIG is hosted by Dustin Griffin who will be bringing in local and national real estate experts to teach new investors how to survive and thrive in our ever changing economy and real estate market.The entire purpose of the group is to help new investors get their first deal and help new again investors get their next deal.