SHARK TANK at BIG on March 29, 2018. Don't Miss It!
Posted on March 13, 2018 by
Thu, Mar 29th @ 6:00PM at Hilton Tampa Westshore
(NEW!)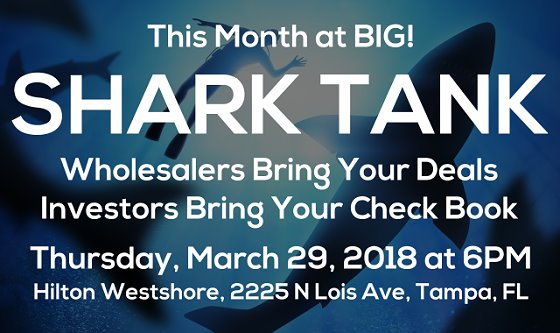 SHARK TANK
with David Minor & Guest Sharks
Thu, Mar 29th, 2017 @ 6:00PM
Wholesalers Bring Your Deals!
Investors Bring Your Checkbooks!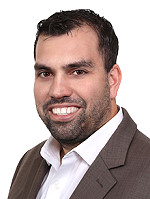 The Real Estate Shark Tank comes to attack the Beginning Investors Group (BIG) on Thursday, March 29th, 2018 at 6 PM at the Hilton Tampa Airport Westshore located at 2225 N Lois Ave in Tampa.
If you need to sell a deal or learn how to sell deals, this is the meeting you don't want to miss!
WHOLESALERS, bring your deals and pitch them to a group of people ready to write checks on the spot for your deals!
INVESTORS, if you're looking for a deal to buy, bring your check books. We will have plenty of deals, agreements and blue ink pens to write up contracts.
Be ready to network and pitch your deals to Tampa's top Buyers & Wholesalers. Financing will be available if needed and resources in developing your power team as you grow your real estate investing business.
Contracts will be provided by the Vesado team and you have the right to bid on properties being offered. You will leave with a deal done, an outline on how to pitch the deal and a team that will walk you through the process. Get ready, you don't want to miss this new meeting!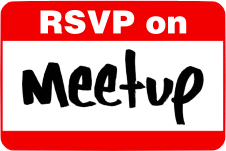 The Tampa REIA Beginning Investors Group (BIG) is a NEW, educational and networking special interest group for new investors who are just getting started in real estate investing as well as "new again" real estate investors who've taken some time off and are looking to get back in the game and take their business to the next level and beyond!
BIG is also a great place for experienced investors to learn some of the latest and greatest real estate investing tips and strategies from other seasoned investors who are teaching and leading the next generation of real estate investors. It is also a great place for experienced investors to meet new investors, to work with them and make deals happen!
Each month, David will be bringing in local and national, successful, active real estate experts to teach new investors how to survive and thrive in our ever changing economy and real estate market. The entire purpose of this group is to help new investors get their first deal and help new again investors get their next deal!
There will be lots of learning, lots of networking and lots of fun. Invite your friends and bring your deals, your business cards, flyers, haves, wants, needs and questions to the meeting for discussion and new opportunities.
Tampa REIA Members can attend at no charge. Non-Members can pay $20 at the door or RSVP online at BIGTicket.TampaREIA.com for Only $15.
Diamond Members & Sponsors

New Western Acquisitions – An Investment Real Estate Brokerage whose primary focus is to provide discounted property to real estate investors. New Western provides discounted off market properties, in house financing, access to local contractors, and resources for any exit strategy. Read More>>