Learn the 10 Steps to Building a 6 Figure Real Estate Investing Business with the Twyfords
Posted on February 24, 2020 by
Thurs, March 12th at 5PM @ Ramada Tampa Westshore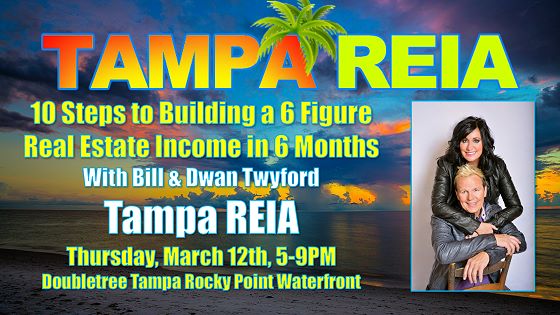 10 Steps to Building a
6 Figure Real Estate Income in 6 Months
with

Dwan & Bill Twyford
RSVP on Facebook or RSVP on Meetup
Tampa REIA Members Can Attend for no charge.
Guests Can RSVP Online Now for $15 or Pay $20 at the Door.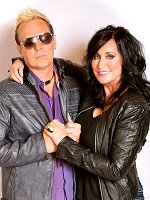 Please come out and join us on Thrusday, March 12th from 5PM to 9PM at the Tampa REIA Monthly Meeting at the Doubletree Tampa Rocky Point Waterfront located at 3050 North Rocky Point Dr. West in Tampa, FL with Dwan & Bill Twyford where you will learn the "10 Steps to Building a Six Figure Real Estate Income in Six Months!"
At the meeting, you are going to learn how to build a predictable and duplicatable business through social media, internet marketing, and getting in front of distressed homeowners. You will also learn Bill & Dwan's millionaire marketing techniques to building that six figure income you have been wanting. Don't forget about old school prospecting which will be covered too.
Bill says "We will be covering the 10 steps it takes to duplicate your business. You will also learn what to say on phone calls to sellers and the scripts to use to close your homeowners to get the contract signed."
At this meeting you will learn:
Homeowners have 10 options when in distress… do you know what they are?
What does it really cost you to get a lead with your marketing
How many people do you need to talk to… to get a deal to close?
How do you handle all of the homeowners objections?
What software do you need to use when gathering all of your leads?
How good is your lead follow up and why you need to do lead follow up our way?
Are your assets protected? You work hard to achieve while others want to take what you have… are you bulletproof?
All this much more!
RSVP NOW and join Dwan & Bill and Tampa REIA from 5PM to 9PM at the Doubletree Tampa Rocky Point Waterfront located at 3050 North Rocky Point Dr. West in Tampa, FL and let them show you how to create a duplicatable 6 Figure Real Estate Investing Business this year. We hope to see you there!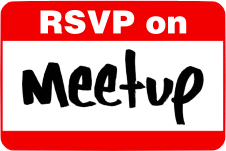 5:00 PM in the Main Meeting Room
Meeting Before the Meeting
7 Signs the Tampa Bay Market is Changing & How to Compete
with

Bill Twyford

At the Meeting-Before-the-Meeting at 5PM Sharp, Bill Twyford is going to be looking into the future of the Tampa Bay Real Estate Market. YOU DON"T WANT TO MISS THIS!
Bill will show you what areas are gaining momentum and what areas are losing momentum in our own back yards. He will also share the 7 triggers that drive your momentum in our market. What ZIP CODES are HOT and what ZIP CODES are NOT?!?!
If our real estate market were to crash again (as predicted), will you be ready? Will you adapt and overcome or crash and burn? Can you compete?
You better show up so Bill can show you where the collapse will be and where the "Wealth Phase" will happen next in our area. TAKE ACTION, RSVP & Join Us!
*Meeting Agenda
5:00 PM: Meeting Before the Meeting with Bill Twyford 
6:00 PM: Tampa REIA Main Meeting, Vendor Tradeshow & Networking
6:15 PM: Announcements, Introductions, Haves & Wants
7:30 PM: Feature Presentation with Bill & Dwan Twyford 
9:05 PM: Door Prizes & Giveaways for Tampa REIA Members
9:30 PM: Late Night Networking at Bahama Breeze
*Please Note: Meeting agenda is subject to change.
As always, Tampa REIA Members can attend our Tampa REIA Main Meeting event at no charge and Non-Members can Register Online for $15 or pay $20 at the door. Be sure to bring your business cards and flyers and join us for an evening of real estate deals, vendors, networking, education and fun! See you there!