Tampa REIA Meets on January 9th with Ron LeGrand on Quick Turning Real Estate
Posted on January 1, 2014 by
Thurs, January 9th at 6:00 PM @ Doubletree Suites Tampa Bay
Tampa REIA – January 9th
with

Ron LeGrand

onQuick Turning Real Estate for Fast Cash
at the

Doubletree Suites Tampa Bay
Tampa REIA Members Can Attend at No Charge & Guests for $10.
RSVP Online Now to Get Ron's FREE Bonuses Below.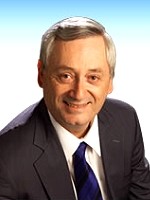 Tampa REIA is very excited to announce that real estate investing legend and millionaire maker, Ron LeGrand, will be speaking at our Tampa REIA Main Meeting on Thursday, January 9th at the at the Doubletree Suites Tampa Bay located at 3050 North Rocky Point Dr West in Tampa, FL which starts at 6:00 PM. Ron has bought and sold over 2500 houses and helped create more millionaire real estate investors than anyone else on the planet and you can be one of them!
Come spend the evening with Ron where he will teach you how to "Quick Turn Real Estate for Fast Cash" and become a "transaction engineer" so you can kick start the New Year and make 2014 your most profitable year ever! You will learn about…
Making Big Money With No Money Or Credit – Ron will show you where the big money is in real estate and how you can get it with NO money, credit or risk on your part.
Making Huge Profits On Over Leveraged Houses – Ron will show you how to control houses without ownership and make a minimum of $5,000 per house 3 to 4 times a month.
Getting Rich In Your IRA Tax Free – Ron will teach you how to use real estate to grow your IRA to a MILLION DOLLARS in less than five years without you ever personally contributing another dime.
Where To Find The Best Deals Even With Hot Competition – Ron will show you the best tool he's ever used to absolutely ensure you never struggle to find deals and it only costs pennies to implement.
Where To Get The Money To Buy Bank-Owned Deals– Since banks require cash to purchase their properties, Ron will show you where to get the cash to buy bank-owned homes that won't come from other banks or require credit or qualification.
Purchasing a Beautiful New Home for Your Family – Ron will show you how you can purchase a new home for your family in the next 45 days and never fill out an application, apply for a loan, or put up a down payment.
RSVP for the Meeting to Get Your Gift from Ron!
ATTENTION Members & Guests: If you RSVP to attend the meeting right now, Ron has a special gift for you… his book on "How To Be A Quick Turn Real Estate Millionnaire In A Bad Economy" so you can make fast cash with no money, credit or previous experience. He is also throwing in his new audio CD called "How To Make A Fortune In Foreclosures In A Slow Real Estate Market." This book and CD will reveal how you can make a boatload of cold hard cash in today's troubled Real Estate market.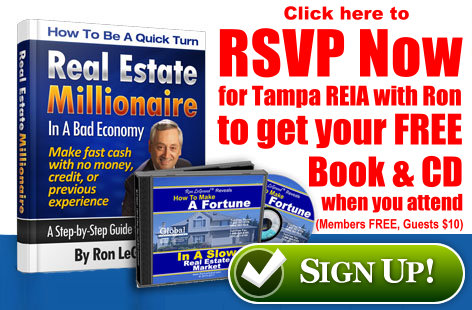 PLEASE NOTE: Tampa REIA Members can attend the meeting on January 9th for FREE. Guests can attend for $10. RSVP Now to secure your FREE Book & CD.
*Meeting Agenda
6:00 pm: Meet, Greet & Networking
6:30 pm: Announcements, Introductions, Haves & Wants
7:30 pm: "Quick Turning Real Estate for Fast Cash" with Ron LeGrand
9:30 pm: Late Night Networking at Whiskey Joe's Bar & Grill
*Please Note: Meeting agenda is subject to change.
Late Night Networking at Whiskey Joe's Bar & Grill

After the conclusion of the Tampa REIA Main Meeting (around 9:30PM), we will be reconvening at Whiskey Joe's Bar & Grill located at 7720 West Courtney Campbell Causeway in Tampa for the "Meeting after the Meeting". Come eat, drink, network and have fun with us as hang out late into the night on Tampa Bay!