Tampa REIA with Robyn Thompson, the Queen of Rehab, on October 12, 2017
Posted on September 21, 2017 by
Thu, Oct 12th @ 6PM at Doubletree Suites Tampa Bay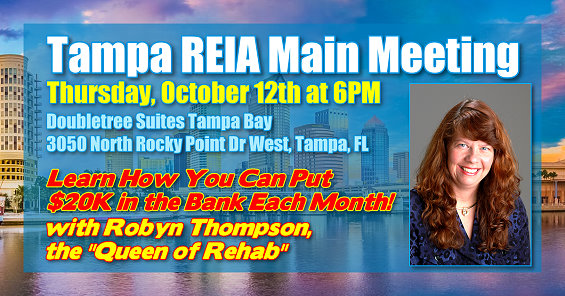 How You Can Put $20K
In The Bank Each Month
with Robyn Thompson,
the "Queen of Rehab"
Tampa REIA Members Can Attend for no charge.
Guests Can RSVP Online Now for $15 or Pay $20 at the Door.
RSVP on Facebook or RSVP on Meetup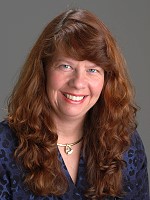 We are very excited at Tampa REIA to announce that Robyn Thompson, "The Queen of Rehab", will be our special guest speaker on Thursday, October 12th at 6:30PM at the Doubletree Suites Tampa Bay located at 3050 North Rocky Point Dr West in Tampa, FL. Robyn has visited our group many times over the years and each time she delivers something very powerful and special. This meeting is no exception and is an event you certainly DO NOT want to miss!
If you've ever seen those Fix & Flip shows on TV and ever thought about investing in real estate, ask yourself…
Are you tired of living paycheck to paycheck?
Are you sick of your same old job?
Are you looking for another way to create wealth?
Are you ready to start a business that will generate huge chunks of cash?
If you answered YES to any or all of these questions, then RSVP NOW and join us! Robyn is the nation's leading expert on buying properties at deep discounts, renovating them at lightning speed and selling them quickly for huge chunks of cash. She takes her business very serious and has turned it into a fine tuned machine. She has rehabbed well over 390+ properties in her investing career and rehabbed as many as 51 houses in single year. She treats her real estate investing business as a serious cash machine and not just a hobby.

At the meeting, Robyn will teach you…
Her Buying Machine
Where to Find Properties to Rehab for profit
10 Criteria to Ensure High Profit Deals
The Rehab Process
Locating the Best Contractors to Get the Job Done
Prescreening Contractors
9 Types of Houses to Never buy
4 Strategies to Funding Deals when You Have No Money
Maximum Allowable Offer formula
Selling Houses in a Down Market
The Most Critical "WOW" Factors to Sell the house
Marketing to Attract "A" Credit Buyers
Prescreening Buyers in 4 Minutes to Ensure they can buy
And That's Not All…
SPECIAL BONUS for Meeting Attendees: Robyn also has a very special bonus for those who attend our meeting while supplies last. She will be giving away a brand new audio CD she created with Ron LeGrand called "Rehabbing Creates Big Fat Checks". RSVP NOW so we know you are coming and make sure we have enough copies. Don't miss this meeting if you want a CD!
As you can see this will be a knowledge packed evening full of excitement and education. Make a list of your questions and have them ready for her at her table following the end of the meeting. Robyn will hang out after the meeting and answer as many questions as possible for you all. All this is happening on Thursday, October 12th at the Tampa REIA Main Monthly Meeting. RSVP NOW!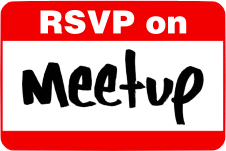 As always, Tampa REIA Members can attend the event at no charge and Non-Members can Register Online for $15 or pay $20.00 at the door. Be sure to bring your business cards and flyers and join us for an evening of real estate deals, vendors, networking, education and fun! See you there!
*Meeting Agenda
6:00 PM: Tampa REIA Meeting in Tampa
6:15 PM: Announcements, Introductions, Haves & Wants
7:30 PM: Feature Presentation with Robyn Thompson
9:30 PM: Late Night Networking at Bahama Breeze
*Please Note: Meeting agenda is subject to change.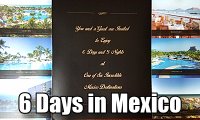 WIN A VIP EXPERIENCE JUST FOR YOU: All participants who attend the Tampa REIA Meeting will entered into a drawing for a chance to win a *Complimentary 6 Day, 5 Night Stay for You and a Guest at One of 6 Incredible Mexico Destinations! *You must be present at the meeting to win. Giveaway does not include dining, transportation, transfers, taxes, upgrades, etc.
9:30PM: Late Night Networking at Bahama Breeze
Late Nite Networking at Bahama Breeze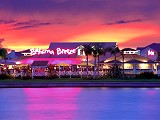 After the conclusion of the Tampa REIA Main Meeting (around 9:30PM), we will be reconvening at Bahama Breeze located at 3045 N Rocky Point Dr E in Tampa for the "Meeting after the Meeting" with Tampa REIA Crew. Come eat, drink, network and have fun with us as hang out late into the night on Tampa Bay!