What's Happening at Tampa REIA
Posted on March 4, 2022 by
Happening at Tampa REIA
Live In Person & Online Meetings
Upcoming Events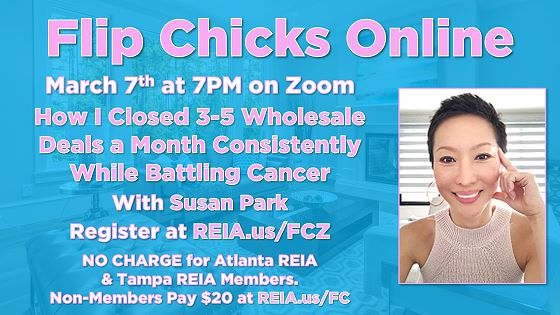 Monday, March 7th @ 7PM – 9PM  (NEW ONLINE WEBINAR): The Real FLIP CHICKS is now meeting ONLINE ONLY on the 1st Monday of each month at 7PM on Zoom Webinar. Register for the Webinar Now! This month's guest speaker will be Susan Park on "How I Closed 3-5 Wholesale Deals Consistently While Battling Cancer".

Susan has been in real estate investing for 10 years and developed multimillion dollar homes in Los Angeles. She now lives in Panama for the last 5 years and wholesales houses full time in CA, AZ, FL, TX, and GA. She consistently has multiple 5 figure months wholesaling while working just a few hours a week. Join us to on the webinar to learn how.

Susan says… "If you can't find consistent real estate deals, you won't have a business… you'll have a side hustle at best. On this webinar training, I'll teach you my process for finding deals on tap so you can consistently have multiple 5 figure months whether you're away snowboarding for 3 weeks, going through chemo for 6 months, or choose to stop working at 3 to take your kids to soccer practice daily.

This is the process I've used and perfected over 10 years and it works whether you want to find deals to rehab, wholesale, or even buy and hold. So if you're struggling to find deals consistently and have cash coming in every month on tap, you don't want to miss this training."

Join Susan and you will learn

To get more deal flow than you know what to do with
How to beat competition to get your offers accepted
How to hire, manage, and train VA's to bring you 3-5 consistent contracts each month
How to build your buyers list fast and furious
The REAL secret to her success… and it has nothing to do with real estate

Don't miss the chance to hear how Susan built a full time wholesaling business living in Panama that's helped her maintain her income even while going through 6 months of chemotherapy. RSVP Now below…

Flip Chicks Online Webinar Registration Instructions For Members & Guests

Flip Chicks is hosted by Amanda Sutherlin, Kelly Duncan, Emilia St Jean & Dustin Griffin.

Be sure to join our Flip Chicks Facebook Group for Atlanta and/or Tampa.
Weekly Meetings
Our Faceboook Groups for Posting & Finding Deals