What's Happening at Tampa REIA – June 18, 2022
Posted on June 18, 2022 by
Happening at Tampa REIA
Live In Person & Online Meetings
Upcoming Events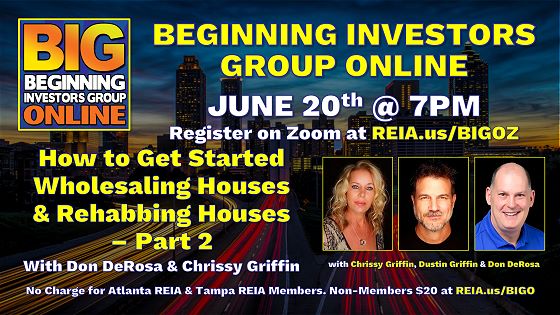 Monday, June 20th @ 7PM (ONLINE WEBINAR): The Beginning Investors Group Online (BIGO) is now meeting ONLINE ONLY on the 3rd Monday of each month at 7PM on Zoom Webinar.

Have you been wanting to learn how to evaluate potential wholesale deals or get started rehabbing those deals? If so our guest speakers this month at BIG are Christine Griffin and Don DeRosa. Both are long time real estate investors, rehabbers, wholesalers and coaches. Both run the Property Protege Group Coaching Program as well as the twice a month, Onsite Renovation Group.

Last month we started talking about Wholesaling and ran out of time to talk about Rehabbing. So this month, we will pick up where we left off and talk about the Fix and Flip side of the business.

RSVP Now and come join us on the Beginning Investors Group Online Webinar to learn more about how to get started in the wholesaling or fix and flip business. RSVP Now below!

BIG Online Webinar Registration Instructions For Members & Guests

Come join us to learn how to get your first deal or your next deal at the Beginning Investors Group Online!

Tuesday, June 21st at 1PM (Live at Job Site): Onsite Renovation Group meets on the 3rd Tuesday of each month at a different job site with your host, Jim Miera. The location will at 1705 29th Ave N, St. Petersburg, FL with Brandon Mann. Save the date, bring your questions, bring your business cards and come join us to learn to renovate houses and network for big profits!

Thursday, July 21st at 6:30PM (LIVE in Madeira Beach): Beach REIA Investor Networking meets at Hooters Madeira Beach with your hosts Mark Lepzinski, Derick Outar & Dustin Griffin. 100 complimentary wings are available first come, first serve. Bring your deals, questions, flyers and business cards and come join us!
Weekly Meetings
Our Faceboook Groups for Posting & Finding Deals