What's Happening at Tampa REIA – March 9, 2022
Posted on March 9, 2022 by
Happening at Tampa REIA
Live In Person & Online Meetings
Upcoming Events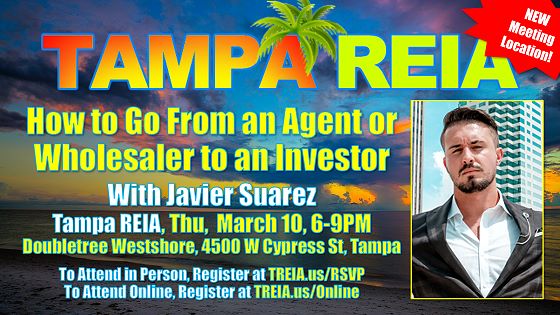 PLEASE NOTE: We Meet at a NEW LOCATION at the Doubletree Hotel in Westshore
Thursday, March 10th, 6PM – 9PM (LIVE, IN PERSON & Online via Zoom Webinar): Tampa REIA Main Monthly Meeting & Vendor Tradeshow at the DoubleTree Hotel Tampa Airport in Westshore located at 4500 W Cypress St, Tampa, FL.

PLEASE NOTE: We meet at the Doubletree Hotel in Westshore this month, NOT the Doubletree Rockypoint.

This month, our special guest speaker will be Javier Suarez who will be discussing "How to Go From an Agent or Wholesaler to Investor."

At the age of 19, Javier began representing sellers and buyers in Washington DC as an Agent. Javier noticed the same buyers buying a lot of the same type of properties. Javier studied his buyers and why they were buying the properties they were buying. Javier found out they were making 1000x the amount he was making by just closing, renovating, and selling the same property.

Over the last 9 years, Javier has dedicated his mission to understanding and maximizing profit through acquisitions. His presentation at Tampa REIA will begin your journey on determining where and how to buy real estate that will change your life. By the age of 28, Javier has transacted well over $50 million in real estate.

Whether you're a new or seasoned investor, come join us at Tampa REIA to learn how to go from working hard as an agent or wholesaler to becoming a real investor in 2022 by investing in real estate and making massive passive income! RSVP Now, there are two ways to attend…

Business members can RSVP for a Vendor Table here at http://vendor.tampareia.com/.

Thursday, March 10th, 9:30PM (LIVE & IN PERSON): Late Night Networking – After the conclusion of the Tampa REIA Main Meeting, we will reconvene at the World of Beer located at 5311 Avion Park Dr, Tampa, FL for the "Meeting After the Meeting"!

Tuesday, March 15th @ 1PM (Live at Job Site): Onsite Renovation Group meets on the 3rd Tuesday of each month at a different job site with your host, Jim Miera.

This month's meeting location will be at Geraldine Nunez's rehab at 911 E 26th Ave, Tampa, FL 33605. This is a 3 bedroom, 1 bath, 984 sqft home that is being fully rehabbed.

Save the date, bring your questions, bring your business cards and come join us to learn to renovate houses and network for big profits!

Wednesday, March 16th at 11:30AM (Live in Clearwater): Tampa Clearwater Real Estate Group hosted by Jim Miera at Joe's Crab Shack, 2730 Gulf to Bay Blvd in Clearwater, FL. Join us again LIVE & In-Person once a month!

Thursday, March 17th @ 6:30PM (LIVE in Madeira Beach): Beach REIA Investor Networking meets at Hooters Madeira Beach with your hosts Mark Lepzinski, Derick Outar & Dustin Griffin. 100 complimentary wings are available first come, first serve. Bring your deals, questions, flyers and business cards and come join us! There will be Late Night Networking at Mad Pub after Beach REIA concludes.
Weekly Meetings
Our Faceboook Groups for Posting & Finding Deals