What's Happening at Tampa REIA – May 1, 2022
Posted on May 1, 2022 by
Happening at Tampa REIA
Live In Person & Online Meetings
Upcoming Events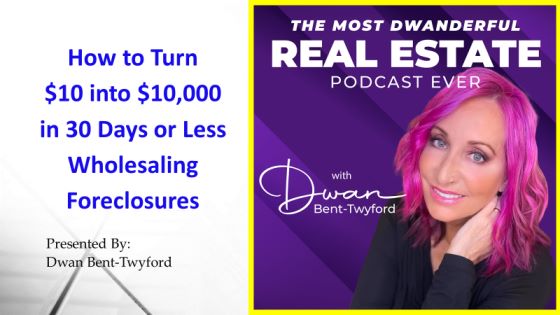 Monday, May 2nd @ 7PM – 9PM  (NEW ONLINE WEBINAR): The Real FLIP CHICKS is now meeting ONLINE ONLY on the 1st Monday of each month at 7PM on Zoom Webinar.

This month's guest speaker is Dwan Bent-Twyford who will be talking about "How to Turn $10 into $10,000 in 30 Days or Less!" Register for the Webinar Now!

Dwan told me she recently got off the phone with one of her insider contacts at the bank who shared some new information that has not been released to the public! She said "YOU WON'T BELIEVE WHAT THE BANKS ARE DOING WITH ALL OF THE FORECLOSURES!"

I don't know about you, but I wanna hear it since many of us have been wondering what's gonna happen with all the properties that weren't being paid for during covid. We will be discussing this with Dwan on Monday on the Flip Chicks Webinar at 7PM and we want you to be on it!

If you've ever felt like you've tried so many different ways to make money in the real estate business, but still haven't found THE way… Dwan wants to show you the most efficient way to flip houses!

Dwan says "I say turn $10 into $10k in 30 days or less, because this is completely doable! There are tons of folks that need your help and all you need is $10 to make it happen!

Join us on Monday for one hour and see how these tips will change the way you see the real estate business! See you Monday!"

Flip Chicks Online Webinar Registration Instructions For Members & Guests

Flip Chicks is hosted by Amanda Sutherlin, Kelly Duncan, Emilia St Jean & Dustin Griffin.

Be sure to join our Flip Chicks Facebook Group for Atlanta and/or Tampa.
Weekly Meetings
Our Faceboook Groups for Posting & Finding Deals