Wholesaling is Competitive – How Will You Handle It for Success?
Posted on September 18, 2020 by
Tue, September 22nd @ 7PM – ONLINE ZOOM WEBINAR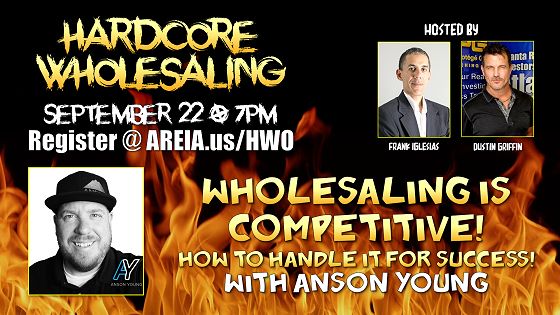 Wholesaling is Competitive…
How to Handle It for Success!
Join us at the HARDCORE WHOLESALING Online Event for on Tuesday, September 22nd at 7PM ET  on Zoom Webinar with our special guest speaker Anson Young who will be discussing how to deal with your competition and come out on top.
Is your market getting more competitive? Are sellers are talking to more investors leaving you feeling the pinch? During this month's Hardcore Wholesaling Event, we will talk about how to set yourself apart from the increased competition, stand out to sellers and get more deals under contract!
We will discuss…
The insane 2020 market
Setting yourself apart from your competitors
How sellers see you
Why should they go with your offer?
Answers to your questions and more!
Anson Young is the owner of Anson Property Group based in Denver, Colorado, which specializes in distressed property purchases. As a full-time real estate investor and agent for the past 14 years, he has completed over 120 wholesale deals and 90 flips.
Anson Property Group is committed to changing communities, helping homeowners and building long-term wealth. When not working, Anson can be found exploring the wilds of Colorado by hiking the Rocky Mountains with his family, reading favorite books with his son and attending loud rock concerts.
Join us for the Hardcore Wholesaling Webinar where we will will be going over real world strategies that are working today to help you crush your competition! RSVP NOW & DON'T MISS THIS EVENT!
Atlanta REIA, Tampa REIA, Chattanooga REIA & Savannah REIA Members can currently Register for the Webinar at for $10. Not-Yet-Members can Register for the Webinar for $25 or Join Atlanta REIA for Only $100/year!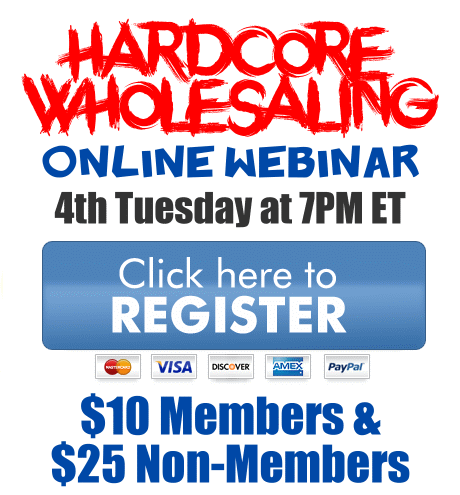 Hardcore Wholesaling is hosted by Frank Iglesias & Dustin Griffin who will be bringing in local and national wholesale real estate experts each month to teach you how to take your wholesaling business to the next level so you too can become a Hardcore Six Figure Real Estate Wholesaler!