2 Day Investor Summit with Bill & Dwan Twyford on August 18 & 19, 2018
Posted on August 9, 2018 by
Sat & Sun, August 18th & 19th @ 9AM in Tampa, FL
Tampa REIA Presents the…
Investor Summit
A 2 Day Workshop with
Bill and Dwan Twyford,
the Real Estate Rockstars!
Register today for the Two-Day Investor Summit on Saturday & Sunday, August 18th & 19th held at the Doubletree Suites Tampa Bay located at 3050 North Rocky Point Dr West in Tampa, FL being taught by Bill and Dwan Twyford, the Real Estate Rockstars and the Nation's leading experts in Short Sales, Foreclosures, Flipping and Negotiating!
They have personally bought and sold over 2,000 properties, bought millions of dollars in commercial property, coached 1,000's of students through successful real estate deals, and have been making millionaires all over North America for almost twenty years.
If you don't know them, that's okay – You will get to know them very soon. They come from a place of ethics, hold themselves to the highest standards, and they make millionaires! They are the real deal!
They have written FOUR BEST SELLERS! Most recently, Bill co-wrote a book with Dan Kennedy and Dwan co-wrote a book with Steve Forbes. Why did these two mega-stars choose Bill and Dwan to co-write a book with – BECAUSE THEY ARE THE BEST IN THEIR FIELD!
At the Investor Summit they will show you how to run an ethical, fair, and PROFITABLE real estate investing business that WILL make you a multimillionaire, too!
Here is a small sample of some of the topics that will be taught at this two-day Summit:
No-Equity Foreclosure Strategies
High Equity Foreclosure Strategies
Creating Notes
Area Classifications
Analyzing your markets
"Live" Field Training Techniques
What is going on Zip Code by Zip Code
Know what your market is going to do in 6 months to 1 year from now
Why Short Sales are going to be HOT
Buy Properties for 50% off Asking Price
Creating your 2020 Vision, what will your business look like in the year 2020
Rehabbing Riches
The Fed-Up Package will make you millions
Building a 1,000,000 Per Year Business
Buying on Auction Sites
How to crush the competition on all of the HIGH Equity Deals
Working a Market No One Else is Working
The 3 profit centers of any deal
All This, Answers to Your Questions & Much More!
As you can see this will be a knowledge packed 2 full days of excitement and education. We look forward to seeing you at this great event on Saturday and Sunday, August 18th & 19th, 2018!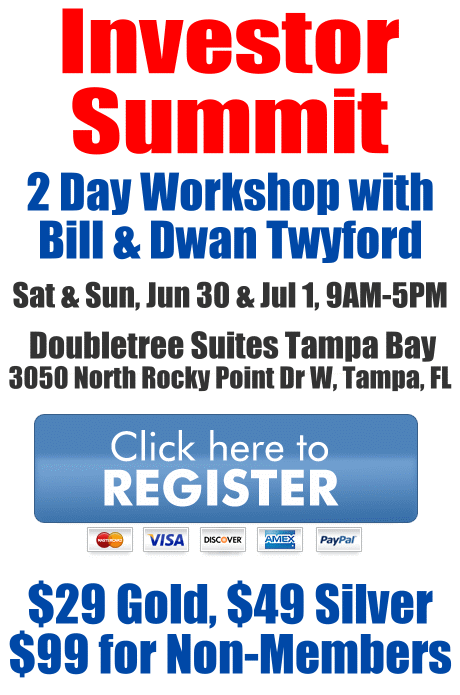 *PLEASE NOTE: The 2-for-1 Early Registration Special is for Members Only. Tuition price will increase and will be per person after Early Registration Expires. Register now and save. Non-Members who join Tampa REIA between August 1st – 9th, 2018 can attend the workshop for NO CHARGE and bring a qualified guest such as a spouse, parent or adult child. Also, Tampa REIA Members who renew their membership for an additional year between August 1st – 9th, 2018 can attend the workshop for NO CHARGE as well and bring a qualified guest. When joining Tampa REIA or renewing your membership, you must let us know that you want to attend the workshop at no charge. You can join Tampa REIA at tampareia.com/membership