3D Online and In-the-Field Workshop This Weekend Wherever You Live
Posted on August 13, 2020 by
Sat & Sun, August 22 & 23 Online & In-the-Field Where You Live!
Driving For Dollars,
Dialing for Dollars &
Door Knocking for Dollars
A 2 Day Real Estate Investor Workshop on Finding Opportunities, Talking to Sellers & Creating Deals!
with

Don DeRosa

&

Dustin Griffin
Saturday, August 22nd from 9AM-6PM
Online Zoom Webinar
Sunday, August 23rd from 9AM-6PM
Online Zoom Webinar

&

In the Field
Register Now Before Early Registration Special Expires on August 19th at Midnight
PLEASE NOTE: Non-Members who Join Tampa REIA between August 1st and August 21st may attend the Driving For Dollars, Doorknocking for Dollars & Dialing for Dollars Online Workshop & Field Trip (aka the 3D Workshop) with Don DeRosa & Dustin Griffin at NO CHARGE as a THANK YOU for joining. Also, Tampa REIA Members who Renew Tampa REIA Membership between August 1st and August 21st may attend the 3D Workshop at NO CHARGE as a THANK YOU for renewing. After joining or renewing, Contact Chrissy at 330-607-6839 for COUPON CODE to attend the workshop at no charge.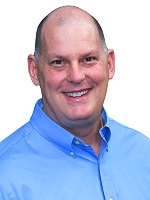 Does talking to Sellers on the phone make you sweat? When you drive neighborhoods looking for ugly properties, does it stress you out because you don't know what to look for? Does the thought of talking with Sellers face-to-face make you nervous? Do you avoid knocking on doors because you're afraid you don't know what to say? Are you worried about COVID-19?
These are all very common fears that all beginning investors have when seeking out their first few deals. Learning how to deal with these issues can make the difference between your success and failure.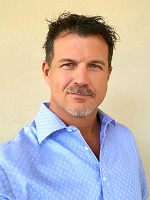 If you would like to overcome challenges such as these, please be sure to join Don DeRosa & Dustin Griffin in a two day, hands-on workshop where he will teach you…
Day ONE in the Online Classroom
Day One of the Online Workshop will take place on Saturday, August 22nd, 2020 from 9AM to 6PM on Zoom Webinar. Day One will be spent in the virtual classroom learning:
Talking with Sellers Over the Phone
Basic Phone Scripts for talking to Sellers
How to talk with Agents, Investors and Homeowners (there is a BIG difference) when they call you or you call them
How to quickly determine the Seller's motivation
What questions are essential to get answered every time to speak to a potential seller
How to prescreen leads quickly and determine if you have a deal or a dud
Driving for Dollars
How to juse technology to make yourself much more productive

Google maps to narrow your focus
Heat maps to help you decide where to go first
Routing software to make sure you aren't wasting time and energy
Mobile apps to help with data collection, skip-tracing, and due diligence
Marketing apps to help you send out postcards while in front of the house

How to market yourself using software to make sure you put yourself ahead of your competition
What things you must have with you at all times (examples)
How to research and pick the BEST skip-tracing company for your budget so you can find vacant property owners
How to put a follow up system in place to ensure sellers will call you using FREE or low cost CRM's
Talking with Sellers Face to Face (Door Knocking)
What scripts to use and how to adjust it based on your type of customer
How to ensure you get invited in the house if you would like to see the inside
What marketing material you need to leave behind so you don't get forgotten
How to handle ANY objections a Seller throw at you and turn it around so they say YES
What marketing to leave behind if they're not home
Day TWO in the Field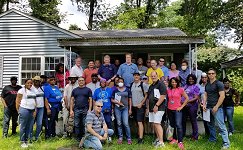 Day Two will be spent in the FIELD putting everything you learned in the online classroom to immediate use. Those who wish to meet in person will will meetup on Sunday, August 23rd, 2020 at 9AM Sharp at an Atlanta Area Location to be announced in class on Saturday. Those who can't or don't want to meet in person can watch the intro Online via Zoom.
You can team up with another classmate, or not, and literally go into the field and drive for dollars, door knock and talk to live sellers as well as seeking out and finding vacant properties.
If talking with sellers is a challenge for you, then you DO NOT want to miss out on this TRAINING EVENT we created just for YOU to get out and make deals happen, even during Covid! There will be lots of hands-on practical applications in this event unlike anything you've probably ever seen. We will immerse you in the real estate investor experience so that you will quickly learn the skills you need to give you the confidence to talk with Sellers like a seasoned PRO.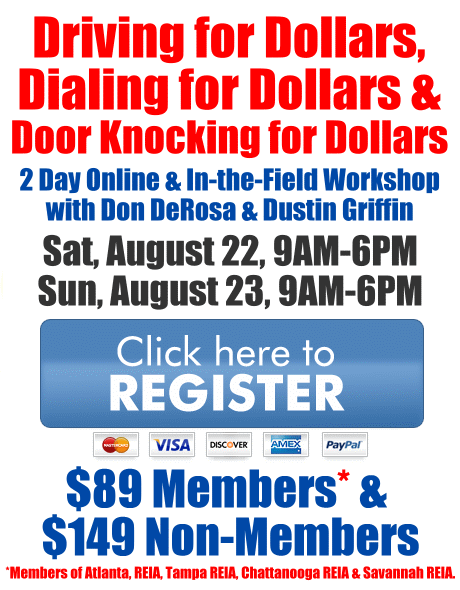 *PLEASE NOTE: Tuition price will increase after by $20 at midnight on August 19th when Early Registration Expires. Register now and save! 
Testimonials
"I did not know what to expect from the Driving for Dollars training. I thought it was going to be just a regular training like others I have attended in the past. However, Driving for Dollars exceeded my expectations. I loved the hands on practice we had both days and the wealth of knowledge that was poured into us from successful investors such as Don, Dustin and David. I'm so glad I attended this training and I can't wait to sign up for the next one and join PPG."
Monica Pedraja
Lithia, FL
"I really enjoyed last weekend spending time with the 3 D's (Don, Dustin and David) I had done Driving for $$$ by myself before, so I was familiar with the concept, but I liked the fact where Don was blasting seller's phone numbers into our phones, so we were able to talk to people who were looking to sell their home right there and then. I must say that many of them were realtors and wholesalers, but I still have 3 sellers who I am following up with!"
Angelique Laret
Lithia, FL
"As a newbie real estate investor and wholesaler, I can honestly say this was the best seminar I've ever attended. Don, Dustin and David definitely over delivered! Over the course of this two-day seminar I learned more about tracking down leads and talking to sellers than I did from months of reading books and watching Youtube videos. Don, Dustin and David pushed us out of our comfort zones and had us hitting the phones (and hitting the streets!) to track down hot leads and to talk to REAL sellers. If you're looking for effective mentorship from serious real estate professionals, then be sure to sign up for this workshop. These guys will guide you to the personal break through that you been looking for and help you to take your real estate business to the next level. Highly recommended!"
Dr. David Sewell
Sarasota, FL
"Last weekend of 08/11-12 I participated in the 2-day class "Driving for Dollars" with Don Derosa. His class was different from all I have ever been and I was impressed with so much learning opportunity you can get. His class was all focused of how real estate investors can optimize their time spent searching for leads and best deals. I learned that instead of spending thousands of dollars sending letters, post cards, etc to potential sellers, you can just use the best of your time by simply using the internet resources and other techniques (such as apps, spreadsheets, smatphone, web search, Craigslist, Zillow) and dedicating your precious time working "smarter" and not "harder". During the first day of class, students had the opportunity to practice live phone calls to real sellers and practice the scripts we learned during class. There are so many different situations in real life and so many ways you can deal or negotiate with sellers and this class offers "hands-on" real practice. I was really nervous first day to answer the phone calls and preferred to watch my classmates talking to sellers. It was so exciting. Next day was the real fun. We were all separated in small groups and assigned to drive around the neighborhoods and talk to people."
"The driving for dollars is a good real estate strategy of finding properties that may turn into your next deal without spending much money with advertising, mailing, posting, and wasted time. You just need to get out of your car and talk to neighbors, ask questions about the property, who lived there, and how to find the owner contact. For those who are afraid of talking to people and don't like to get out of their comfortable zone (like me) this class is great to break the ice, practice your scripts, interact with people, learn the neighborhood, learn how to recognize a good deal and reach out to the owners and tell them you are interested in the property. Great Class!!!"
Elenic Noronuha
Tampa, FL