Abandoned Properties Workshop with Reggie Brooks on November 23, 2013
Posted on October 18, 2013 by
Sat, Nov 23rd at 9AM @ Doubletree Suites, Tampa, FL
Are you "too busy" like so many others, earning a living, to actually make money and become wealthy? There's nothing wrong with working hard to make an honest living, but it's not the way to get rich. Isn't it time that you started making yourself rich, for a change? I won't kid you though… you do initially have to do some hard work and put your heart into making a lasting change. The good news is, if you attend my upcoming workshop, follow my instructions and stay determined and focused, it can and will happen for you.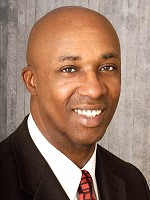 My name is Reggie Brooks and I am an international trainer, author, coach and an active real estate investor. On Saturday, November 23rd at the Doubletree Suites Tampa Bay located at 3050 North Rocky Point Dr West in Tampa, FL, I will be teaching a Full Day Workshop with Tampa REIA on "How to Make Big Profits with Abandoned Properties" where I will teach you how you can make $10,000 cash in the next 60 days.
I will teach you how to find these abandoned and distressed properties, find the owners, and structure a transaction that is mutually beneficial to both you and the seller. You will learn how to "automate the process" of finding the property and the owners, thus creating a cookie-cutter type business where you get the abandoned properties "chasing you", rather than the other way around.
My "Abandoned Property" training includes case studies of people who have used my Abandoned Property System and made very significant profits.
You Will Learn…
How to make big profits using a unique niche in the marketplace – Abandoned Properties
How to invest with no cash and no credit
Insider secrets that the professional investors use to turn $15,000 profits into $50,000 profits and more
Hot new tips and insights that the professionals use to find profitable deals, especially in today's market
Hidden cash producing secrets that even seasoned investors don't even know
How to uncover hidden value in properties that most seasoned investors overlook
How to profit from properties that most investors consider worthless
How to write your contracts to maximize your profits
How to use creative financing to fund your deals
More of What You Will Learn…
How to make offers on shadow inventory (bank owned property that the bank has not yet listed with a Realtor)
How to buy real estate well below market value
Why the bank's loss is your gain
How to locate distressed properties
How to research and evaluate foreclosure properties
How to calculate your profits
And much more…
I have been working for years to instruct and coach literally thousands of students to achieve financial freedom. On Saturday, November 23rd, I am conducting a full day class in which I will teach you how to capitalize on this ever changing real estate market. Yes, you can still make big money – especially now!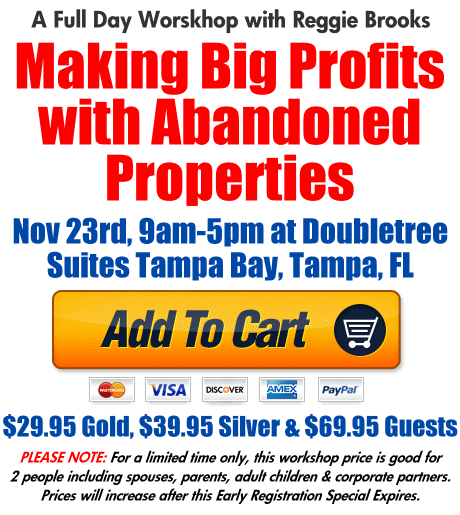 You'll Also Learn How To Keep The Money You Make through legal, ethical and moral tax and asset protection strategies that the IRS allows. Yes, in this time of economic turmoil, you WILL PAY more in taxes. In these times you Absolutely Need This Training!
At This Exciting Educational Event You Will Learn How To:
How to locate and buy Undervalued Properties
How to find, buy and sell Pre­foreclosures and Foreclosures
How to find and get Government Grants and buy at Government Auctions
How to effectively deal with real estate agents and real estate brokers
How to fix up your properties without needing a ton of money and credit
How to inspect and estimate repairs
What to offer to guarantee your profit
How to find eager cash buyers for your deals
How to create a great retirement plan, even if you're over 65 and haven't started yet
How to build a cashflowing investment business in no time, starting with just pennies
And Much, Much More…
This special training is designed to HELP YOU PROFIT in good times or bad! We'll focus on giving YOU the knowledge and ability to buy houses the right way, do quick repairs and then sell them for BIG Profits! You'll learn this through detailed instructions.
LEARN TO PUT A DEAL TOGETHER FROM SCRATCH!!!
Learn "Step-by-Step" how you too can start living your life with FINANCIAL FREEDOM. We'll start with the basics of property finding. This is a major "eye opener"!! Most could never imagine so many methods of finding great deals.
We'll Teach You How To Become A SUPER HOMEBUYER!!
Then we'll take you into the advanced techniques of property finding that only seasoned professionals know about. You'll be using these methods right from the start to buy and hold or flip SUPER BARGAINS. Next, you'll learn exactly how much to offer for a property so you know you have a bargain. This makes you a professional and a true bargain hunter!!
Never Waste Your Time On Making An Offer
That Won't Make You Money!!!
In this intensive professional TRAINING you'll learn to take it one step further. You'll ask for, and many times receive an additional discount on the purchase price, simply because you asked. But you must know exactly how to ask. That is the secret! Once you know this, the sky is the limit!!!
You Can Make THOUSANDS IN CASH Every Time You Do It!!!
To get started investing, we need to find the money. This is sometimes the most creative part. This is also where we spend a great deal of time. Every deal needs financing.
The right financing makes you rich, the wrong financing kills the deal! You'll know how to finance right. After our hands-on training you will have an arsenal filled with strategies on how to tie up a property and flip it for a profit without ever spending a dime of your own money.
Spend The Least Amount Of Money on Repairs and Get The "BIGGEST" Profits!!!
You'll learn how to architecturally or cosmetically repair a home to get the biggest return on your investment. The art and science of making houses beautiful can be taught, and you will learn in only a fraction of the time it would take if you tried it on your own, house by house, in the field. LEARN to add value to a house, not just make basic repairs, that make the building worth far more than others in the neighborhood.
Finally, you'll learn how to sell or "flip" a deal using proven methods to get the highest price for your house. This is where knowing how to get the most for the house and how to save on costs (the closing costs) will add up to thousands of extra dollars to buy cars, vacations, homes and education for you and your family.
Remember, once you know how to fix and flip properties, you have a way of making big money that will give you FINANCIAL FREEDOM!!!
YOU MAY NEVER HAVE TO WORK AT ANOTHER JOB AGAIN…
You may just want to do one deal here and one deal there. If you do this, you may only make a little $20,000 profit on this house and a little $25,000 profit on that house. I guess that wouldn't be so bad. What would you do with an extra $20,000 and $25,000? Then, of course, you might get really excited about this easy business and do 5 or 10 or even 25 to 50 deals. How would that change your life? I assure you, you CAN do this!!! Every important step to being a success in this business is included. You truly will have the knowledge of a Professional Investor.
A little more of what you'll learn:
How to use creative financing to secure that money making deal
How to locate, acquire, sell and become wealthy by dealing with abandoned properties
How to make big money on properties you don't even own
How to make big money on over-encumbered properties
How to take over any mortgage without a due-on-sale violation
How to have sellers paying you to take their properties off their hands
How to create a buying frenzy for your properties!
Don't procrastinate! Register for the Workshop Now and come learn how to pave your way to true Financial Freedsom!
Reggie Brooks
P.S. I promise you, after this incredible day of training, you'll understand and be able to take advantage of the trends that can start you on your path to financial freedom with real estate. You'll also meet some great people and have a little fun along the way!
P.P.S. Whether you're a seasoned real estate investor or brand new to the game, there is information you'll be getting here that you won't find anywhere else. Regiser now and come join us!