Creative Deal Structuring Workshop on April 13, 2019
Posted on April 6, 2019 by
Sat, April 13th in Tampa, FL
Creative Deal
Structuring Workshop
Analyzing Deals, All Day Long
A Full Day Workshop on Making Deals Happen
with Don DeRosa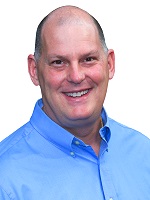 When you come across a lead, do you know how to look at the information, analyze it and determine what to do with it next? There's nothing worse than losing a deal because you don't know multiple ways to structure the deal and how to present multiple offers to the seller instead of just one "all cash, lowball offer" you knew wouldn't get accepted.
Would you like to learn multiple ways of how to structure each deal you are considering buying? This is exactly what I'm going to teach you how to do at the upcoming Creative Deal Structuring Workshop on Saturday, April 13th, 2019 from 9AM to 6PM at the 3050 North Rocky Point Dr West in Tampa, FL.
At this event, you will learn how to:
How to do a Subject-To transaction
How to do a Wrap Around Mortgage
How to do Owner Financing with the Seller
How an Option works an many other types of transactions
You will learn how to become a transaction engineer
How to be a problem solver to create win-win deals for everyone
How to take a lead and come up with multiple ways to structure the deal
How to install and use Don's Easy Offer Maker software on your Mac, PC, tablet or smart phone
All this, plus answers to your questions and much more!
Print off this form and bring your deals so we can show you how to be super creative and make money on any deal.
Click Here to Download Don's Lead Sheet
Be sure to Download Don's Property Lead Sheet, call as many sellers as you can and bring as many completed Lead Sheets to class as you can, and Don will analyze your deals in class and help you figure out how to structure them!
FREE BONUSES FOR ATTENDING!
In addition to all this great information, Don will also be giving all attendees additional bonuses valued at over $1000 you will not want to miss!
Don's Creative Deal Structuring Course (Normally Sells for $697)
Don's Patented Easy Offer Maker Software (Normally Sells for $397)
Red Light, Green Light eBook – Use in conjunction with Easy Offer Maker software
I will also show you how to use my "Easy Offer Maker Software" to make profitable offers every time, using multiple strategies like owner financing, subject to, options and lease-options. If you want to learn how to make money on every lead you get your hands on, then REGISTER NOW and come join us to learn how to structure deals creatively and become a transaction engineer.
Don't miss this great opportunity to learn about creative deal structuring from an expert real estate investor who invests right here in your backyard! You will get back more than double your cost of tuition! Don't let this one-time offer pass you by! REGISTER NOW!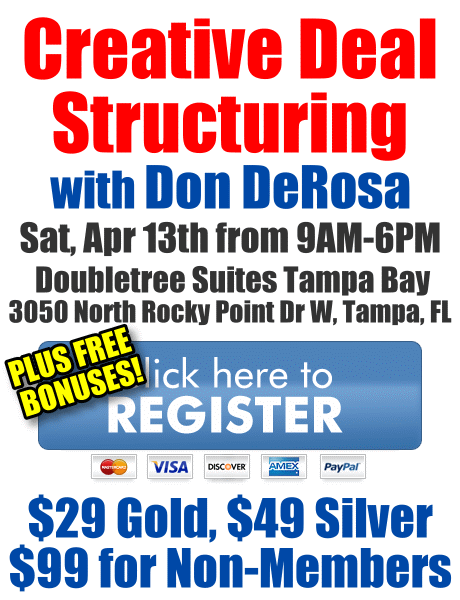 *PLEASE NOTE: Tuition price will increase and will be per person after Early Registration Expires. Register now and save! Date, time and location are subject to change. Join Tampa REIA and save on tuition.