Deal Structuring Workshop with Larry Harbolt on January 12, 2019
Posted on January 6, 2019 by
Sat, Jan 12th in Tampa, FL
Deal Structuring Workshop
Learn How to Make More Profit on Every Single Deal You Do!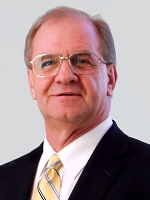 On Saturday, January 12th from 9AM to 6PM at the 3050 North Rocky Point Dr West in Tampa, FL, Larry Harbolt will be sharing with us a full day of new and exciting ideas that will change the way you structure your offers with sellers. He will also show us how to dramatically increase your profits on every deal simply by tweaking the way you structure your offers.
Larry will show us how he uses the "4 Key Parts" every offer must contain. He will show us how using a combination of Time, Payment, Interest and Price can be manipulated to give a seller what they want and also get what you want. You will be amazed how easy it is to make profitable offers others can't match.
Larry will also explain why paying interest always steals profits and monthly cash flow on every financed deal. Paying more interest than necessary is not a profitable strategy as everyone knows, and is why you end up paying thousands of dollars more for each property you buy. After you hear what Larry will be showing us on Saturday, you will forget thinking that the price is the most important part of getting your offers accepted! There really is a better way!
This is such an important subject for you to master. This is new information Larry has presented only once and received rave reviews. The information he will be presenting on Saturday is really simple to understand and easy to use. The best part is this information isn't taught anywhere on any level. Because of this fact, if you are with us on Saturday, you will have a major advantage over all of your competition.
Make your plans now to join us Saturday, January 12th, where Larry will share for the first time in our market, information that will change the way you make offers to buy houses and how you can make more profits on the deals you do. This will give you the upper hand over your competition as you will learn how to structure deals that will bring immediate results. Register Now!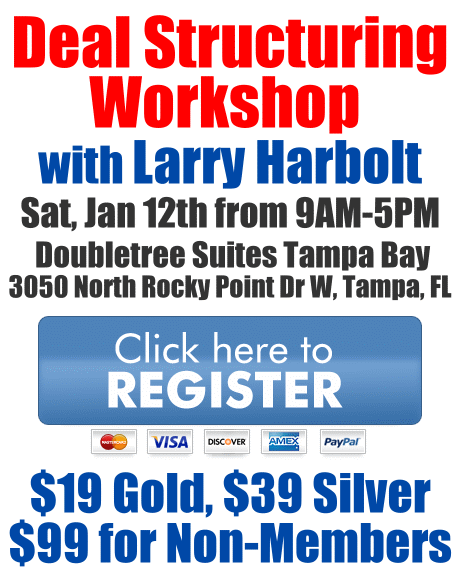 *PLEASE NOTE: Tuition price will increase and will be per person after Early Registration Expires. Register now and save!