Driving For Dollars, Dialing for Dollars & Talking to Sellers on August 11 & 12, 2018
Posted on July 31, 2018 by
LIMITED TO 1ST 30 WHO REGISTER
Sat & Sun, August 11th & 12th in Tampa, FL
Driving For Dollars,
Dialing for Dollars
& Talking to Sellers
2 Day Real Estate Investor Immersion Workshop
with Don DeRosa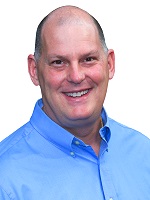 Does talking to Sellers on the phone make you sweat? When you drive neighborhoods looking for ugly properties, does it stress you out because you don't know what to look for? Does the thought of talking with Sellers face-to-face make you nervous? Do you avoid knocking on doors because you're afraid you don't know what to say?
These are all very common fears that all beginning investors have when seeking out their first few deals. Learning how to deal with these issues can make the difference between your success and failure.
If you would like to overcome challenges such as these, please be sure to join Don DeRosa in a two day, hands-on workshop where he will teach you…
Day ONE in the Classroom
Day One of the Workshop will take place on Saturday, August 11th, 2018 from 9AM to 6PM (registration starts at 8:30AM) at the Doubletree Suites Tampa Bay located at 3050 North Rocky Point Dr West in Tampa, FL. Day One will be spent in the class room learning:
Talking with Sellers Over the Phone
Basic Phone Scripts for talking to Sellers
How to talk with Agents, Investors and Homeowners (there is a difference) when they call you or you call them
How to determine the Seller's motivation
What questions are essential to get answered every time
How to prescreen leads quickly and determine deal or no deal
You will also be making and taking live calls from REAL Sellers!
Driving for Dollars
How to market yourself correctly
What things you must have with you at all times
How to research and find vacant property owners
How to put a follow up system in place to ensure sellers will call you
Talking with Sellers Face to Face (Door Knocking)
What scripts to use for practicing
How to ensure you get invited in the house
What marketing material you need to have with you
How to handle objections
What marketing to leave behind if they're not home
Day TWO in the Field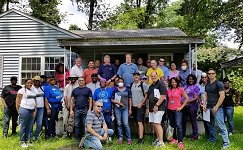 Day Two will be spent in the FIELD putting everything you learned in the classroom to immediate use. We will meetup on Sunday, August 12th, 2018 at 8AM Sharp at the IHOP located at 4910 W Spruce, Tampa, FL. You will be paired up with another classmate and literally go into the field and drive for dollars, door knock and talk to live sellers as well as seeking out and finding vacant properties.
If talking with sellers is a challenge for you, then you DO NOT want to miss out on this BRAND-NEW TRAINING EVENT we created just for YOU! There will be lots of hands-on practical applications in this event unlike anything you've probably ever seen. We will immerse you in the real estate investor experience so that you will quickly learn the skills you need to give you the confidence to talk with Sellers like a seasoned PRO.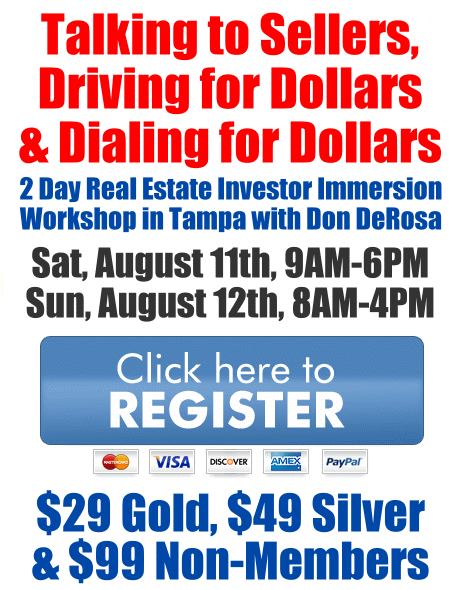 *PLEASE NOTE: Tuition price will increase and will be per person after Early Registration Expires. Register now and save!