Elite Tax Sale Workshop on October 13, 2018 with Tom DiAgostino in Tampa
Posted on October 3, 2018 by
Sat, October 13th in Tampa, FL
How to Buy Houses Fast with as Little as $275 Using Tax Sales
A Full Day Tax Sale Workshop with
Tom DiAgostino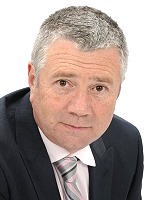 Tom DiAgostino is teaching Elite Tax Sale Training on "How to Create Generational Wealth with Tax Liens & Deeds & Get Out of the Rat Race Forever!" on Saturday, October 13th at 9AM (Registration starts at 8:30AM) at The Godfrey Hotel & Cabanas Tampa located at 7700 W Courtney Campbell Causeway in Tampa, FL.
You Will Learn:
How to CONSISTENTLY buy properties at 10-30% of Repaired Value so you make more money EACH Deal
Where to get great liens at the maximum rate allowed by the state and double your money in half the time
How to get Valuable properties for FREE with simple mail done for you
How to use your IRA to keep 100% of the profits, compounding your wealth building
What kind of diligence is necessary for the property and for title work to avoid mistakes
Strategies for wholesaling, retailing, rehabbing, and landlording for maximum profit
How to get the same savings on material as Tom's 20yr relationships – for more money in your pocket!
All this and so much more!
Tom says… "I've been around the block for 21 years and done it all. This is not the flavor of the week. This training will change your financial life, and your generations to come. Stop trying to ride the next wave, only to find you're on the back end, left at sea. We're not just trainers, we're your investment partners. Trust us and come spend Saturday, October 13th, 2018 with us, where I'll explain why this is the best deal source on the planet for every type of investor & show you how to do it. don't miss this event… REGISTER NOW!"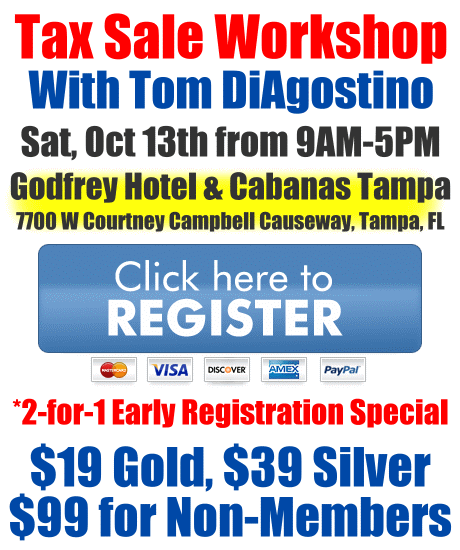 *PLEASE NOTE: Tuition price will increase and will be per person after Early Registration Expires. Register now and save! Date, time and location are subject to change. Renew your Tampa REIA Membership or Join Tampa REIA as a Silver or Gold Member prior to registering and you can attend this event for FREE. You can join Tampa REIA at membership.tampareia.com.