Flipping Vacant & Distressed Properties Workshop on May 13, 2017 with Reggie Brooks
Posted on May 12, 2017 by
Sat, May 13th at 9AM @ Doubletree Suites Tampa Bay
Buy 1 Workshop, Get 2 Workshops!
Sign Up for Reggie's Workshop and Get Donna Bauer's Notebuying Workshop on June 10th at No Charge!
Vacant And Distressed Property Opportunities
Workshop for Real Estate Investors
Discover How To Buy Vacant and Abandoned Properties For
Pennies On The Dollar!
Saturday, May 13th from 9AM-5PM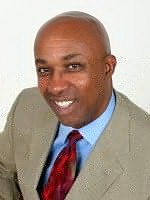 Join Reggie Brooks on Saturday, May 13th from 9:00 AM to 5:00 PM (Registration starts at 8:30 AM) at the Doubletree Suites Tampa Bay located at 3050 North Rocky Point Dr West in Tampa, FL where he will show you how you can make $30,000 cash in the next 60 days. While you've been keeping your nose to the grindstone, paying taxes and worrying about keeping up with inflation…… silently all across America, shrewd real estate investors are cleaning up. But, right here and right now, things are going to change.
Here's Some Of What You'll Learn:
How To Invest With Only A Few Hundred Dollars
How To Earn From 18 To 55% Interest On Your Money And More
How Your Investment Is Safe, Secured By Real Estate, And Guaranteed
How Your Checks Automatically Come Straight From The Government
If The Tax Payer Doesn't Pay, You Foreclose The Property
When You Foreclose, The Loans Get Wiped Out!
Easiest Way To Own Real Estate Free And Clear For Pennies On The Dollar
And Much, Much More…
The truth is it's very easy and simple to make millions… IF you just have and use the know-how. Right now, right here in your area, there are undervalued properties ready to be scooped up for pennies on the dollar. This is the time to buy these deeply discounted properties and make "a killing" down the road. The money is there for the taking.
"There Are Millions To Be Made In Real Estate – Right Now, In Today's Changing Market. In Fact, If You Don't Make $30,000 Or More In The Next 60 Days, You Didn't Attend My Training at Tampa REIA on May 13th!"
Mark you calendar right now for May 13th! Reggie's going to teach you the steps he took to become a multi-millionaire. And he did it doing exactly what he will be teaching you!
Here's More Of What You'll Learn:
How to formulate the correct amount to offer on a potential investment property
How to buy investment property well below market value
How to buy houses, apartments, commercial, etc. for pennies on the dollar
Loads of hot new tips and insights that the pros use to find good deals in this changing market
Clever ways to automate the abandoned property system – get these properties chasing you instead of you chasing them
Amazingly simple, low cost ways to fix up properties for maximum profits
Quickly getting rid of fear and get moving quickly toward your level of success
And Much, Much More…
We are going to PROVE IT to you live at this full day Vacant/Abandoned Properties Workshop on Saturday, May 13th from 9AM to 5PM.
Register Now and join us to discover Reggie's secrets that he will be to sharing with you. These are the strategies that he has perfected throughout his own Real Estate Investing ventures and he will show you step-by-step how YOU can implement them into your business today. Register Now!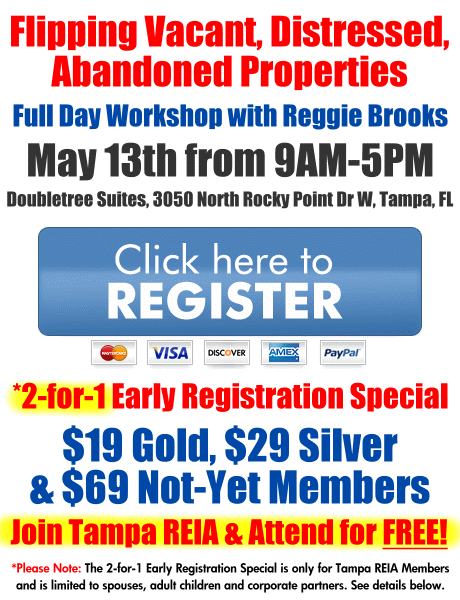 *PLEASE NOTE: The 2-for-1 Early Registration Special is only for Tampa REIA Members and is limited to spouses, adult children and corporate partners. Non-Members who Join Tampa REIA between May 1st through May 11th, 2017 can attend the workshop for FREE as new members and can bring a qualified guest. Also, Tampa REIA Members who renew their membership for an additional year between May 1st through May 11th, 2017 can attend the workshop for FREE as well. When Joining Tampa REIA or renewing your membership, please indicate that you want to attend the workshop at no charge. You can Join Tampa REIA at http://membership.tampareia.com.