FlipStarter January 20, 2018 – a One Day Speed Course on Flipping Houses
Posted on January 5, 2018 by
Sat, Jan 20th at 9AM – Doubletree Suites Tampa Bay
Tampa REIA Presents…
FlipStarter
A One Day Speed Course
on Flipping Houses
with Roger Blankenship
Saturday, January 20th from 9AM–5PM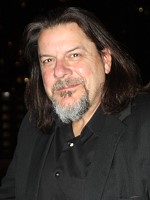 How would you like to have the entire system and framework for fixing and flipping houses in just 6 and one-half hours? How about if the trainer not only tells you about their success, but also their mistakes and failures so you don't repeat them?
If so, be sure to REGISTER TODAY for FlipStarter on Saturday, January 20th at 9AM with Roger Blankenship at the Doubletree Suites Tampa Bay located at 3050 North Rocky Point Dr West in Tampa, FL.
FlipStarter is a One Day Speed Course in Flipping Houses. Roger Blankenship, host of Flipping America, a syndicated radio show and podcast with over 2 million listeners per month, is going to share with you many of the secrets to his success. His unique promise for this day is three-fold:
You WILL NOT learn everything you need to know in one day.
You WILL learn the basics of doing your own fix and flip. With your energy and commitment to continued learning, you'll be able to take this information and get started making money right away.
There will be several sessions during the day. Each one of them is worth the full admission price.
What makes this FlipStarter Workshop different?
You don't have to start with wholesaling and then hopefully graduate to fixing and flipping. You can START making the big money right away!
Don't have the money to fix and flip? Roger will show you how to get 100% deal funding!
Skeptical that any course could give you all you need? Roger agrees, which is why his program comes with a Mentor at no additional up-front cost.
Roger will show you how he grew his part-time hobby into a full-blown business, flipping 100+ houses per year.
You have one of the most experienced investors in America providing knowledge and insight, a local Mentor providing on-going coaching, and the funding for your deals. No one else offers this combination
Answers to your questions and much more!
SPECIAL BONUSES for Attending…
Roger will reveal to you his source for consistent deal flow, in an overheated market like Tampa in 2018.
Roger uses a system of proprietary formulas to guide his decision making and he's going to share many of them with you.
Everyone present will have the opportunity for a free Strategy Session with Gina Gaudio-Graves, one of America's leading business coaches.
Everyone present will get links to watch the event again (especially the part you miss during your strategy session).
Roger and his special guests will share with you a wealth of tips, tricks, formulas, methods, and the proper mindset for success in business. People routinely pay thousands of dollars for an hour of Roger's time. But you will have access to him all day for just as little as $47!  Sign Up Now and reserve your seat on Saturday, January 20th!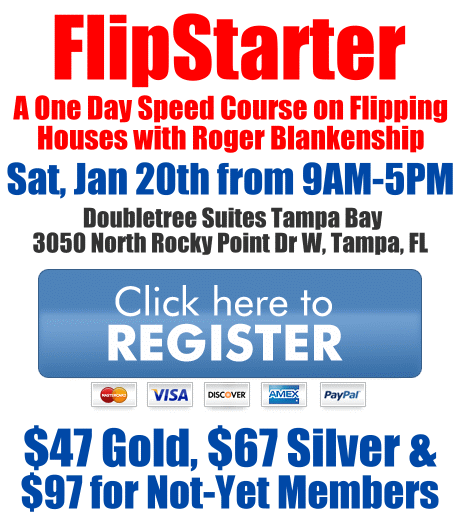 It's Worth Noting: To date, the Flipping America Mentoring Program has a 100% success rate. Every person who has completed the Fix and Flip Mentoring Program has purchased their first investment property within six months. FlipStarter offers no guarantee that you will succeed at this. Although we have a 100% success rate in the past, at some point someone is likely to drop the ball. We pledge to do our best to NOT let that person be you!