Foreclosures Gone Wild Workshop on December 15, 2012
Posted on December 4, 2012 by
Sat, December 15th @ 9:00 AM – Doubletree Suites Tampa Bay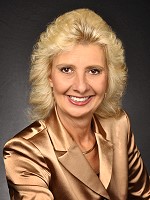 Realtors and Real Estate Investors: Have you taken advantage of the fact that Foreclosures Have Gone Wild? If not, why… Fear? Lack of experience? Discouragement? No matter if you are a first time Investor, Realtor or a Seasoned Pro, on December 15th at 9:00 AM at the Doubletree Suites located at 3050 N Rocky Point Drive West in Tampa, FL, Kimberlee Frank will show you all the secrets to get your short sales approved and closed!
Yes, some people say "Are you Nuts to work Short Sales?!" Kimberlee says "You're Nuts if You Aren't!" Short Sales can be frustrating, if you don't have a simple, easy step-by-step system that is current with the weekly changes in the industry. It doesn't matter what level of experience or lack of experience you have… Kimberlee has got you covered. Learn from the best, partner with her and let her negotiate, fund and/or rehab the property and split 50/50 profit split!
Attend and LEARN the Top 10 Steps to Successful Short Sales:
Learn how to find the Right Team
Understand structure of LLC, S or C-Corp
Learn how to Control a Deal at No RISK and have Sellers eating out of your hand
Understand the paperwork for today's market
Learn how to pre-screen your buyer's
Learn to sell your house fast in 7 days or less
Let Kimberlee negotiate & fund your short sale
Learn how to have your Buyer fund your deals
Learn how to provide facts for the BPO Agent so that Bank's value of the home allows you to get discounts and close quickly
Learn how to close back to back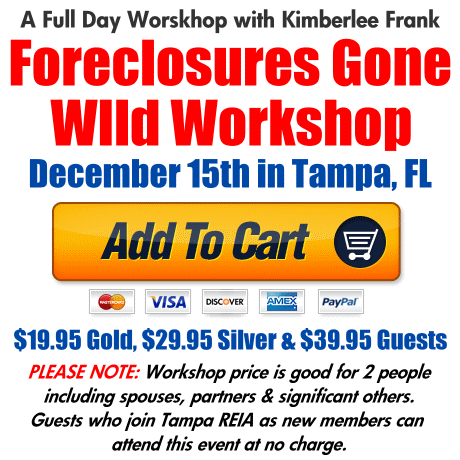 Kimberlee Frank is an Investor/Real Estate Broker knocking down deals right in your back yard. You will be trained by an Investor/Broker who is out in the field daily, just like you, closing deals! If you are counting on the past real estate trends and regulations to help you close deals today, then your business will fail! The short sale industry is changing and if you don't change, you will have NO CLOSINGS = NO CA$H.
"Hi there….it's Kimberlee! I have watched the short sale industry change on a weekly basis for Investors and Realtors. What worked in the past is not working now; what worked in June 2012 is not even working now. As your Mentor, I have had to watch with a keen eye in order to adapt quickly and successfully to the changes. I am now re-opening the opportunity to partner with me. My office will negotiate, fund, rehab and resell the property for a 50/50 profit split!
In order to allow your business to grow and be successful, you must also invest the time to 'sharpen the saw' and renew the "mind" of your business. Using old, outdated short sales courses or trying to figure it out yourself with the advice of 'friends,' can cost you thousands of dollars in lost profits or cause major challenges in the future.
Join me at my 1-day Event and I will knock your socks off with the new changes in the industry. Learn how to overcome the challenges of short sales and increase your closing ratio! I will even partner with you! Now is the time to make a boatload of money. Let me give you the Power Push into 2013! Attend my 1-Day Training and blast your business into financial success!!"