How to Become a Transaction Engineer with Don DeRosa on June 16, 2018
Posted on June 8, 2018 by
Sat, June 16th at 9AM – Tampa, FL
How to Become a Transaction Engineer
Full Day Workshop with Don DeRosa on How To Put Together Deals When Others Can't!
Sat, June 16th from 9AM – 6PM
*Join Tampa REIA or Renew Your Membership & Attend at NO CHARGE!*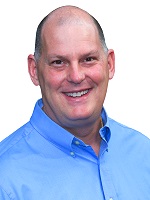 When you come across a lead, do you know how to look at the information, analyze it and determine what to do with it next? There's nothing worse than losing a deal because you don't know multiple ways to structure the deal and how to present multiple offers to the seller.
We are in the midst of a sellers' market. Although I wish it would never end, that simply isn't possible. As Sir Isaac Newton once said "what goes up must come down". He was referring to gravity of course, but the same can be said for real estate.
I want you to learn NOW, how to buy properties with no money down or with as little as possible because you can't and shouldn't always rely on traditional funding and traditional methods.
To be a good, creative deal structurer, two things need to happen… 1) You need to become a problem solver aka a "transaction engineer". The better you understand the problem, the more solutions you can offer your seller. 2) You need to become your seller's partner. It needs to be a win-win scenario for everyone.
During the Transaction Engineer Workshop, I'm going to teach you how to collect the right information, how to analyze the details and then how to use it to create a win-win solution for you and your seller.
At this event, you will learn how to:
Ask the right kind of questions
How to perform proper due diligence
How to structure three different deals on each lead
How to become a top transaction engineer by using techniques such as "subject to" owner financing, options, lease purchases and many more
How to structure deals that eliminate/limit your need
for cash or cred
All this, plus answers to your questions and much more!
So join me, Don DeRosa, at the Transaction Engineer Workshop on Saturday, June 16th, 2018 from 9AM to 6PM at the Doubletree Suites Tampa Bay located at 3050 North Rocky Point Dr West in Tampa, FL as we discuss multiple offer strategies, negotiating and creative deal offer making.
I will also show you how to use my "Easy Offer Maker" to make profitable offers every time, using multiple strategies like owner financing, subject to, options and lease-options. If you want to learn how to make money on every lead you get your hands on, then REGISTER NOW and come join us to learn how to structure deals creatively and become a transaction engineer!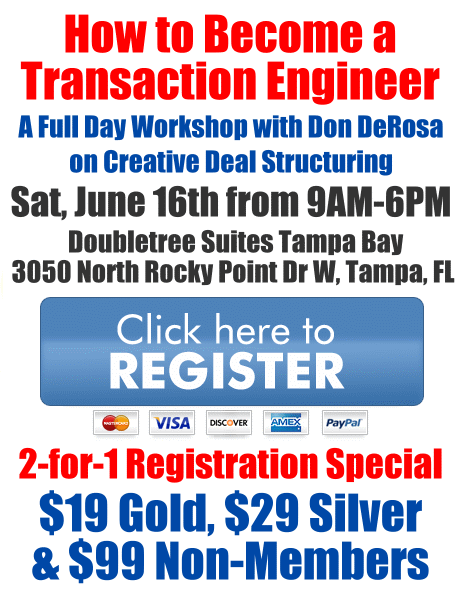 *Join Tampa REIA or Renew Your Membership & Attend at NO CHARGE!*
*PLEASE NOTE: The 2-for-1 Early Registration Special is for Members only. Members may bring a qualified guest such as a spouse, parent or adult child. Non-Members who join Tampa REIA between June 1st – 14th, 2018 can attend the workshop for NO CHARGE. Also, Tampa REIA Members who renew their membership for an additional year on or before June 1st – 14th, 2018 can attend the workshop for NO CHARGE as well. When joining Tampa REIA or renewing your membership, please indicate that you want to attend the workshop at no charge. You can join Tampa REIA at https://tampareia.com/membership.
REGISTER NOW WHILE SEATS ARE AVAILABLE for the workshop and join us at the event! Be sure to bring a light jacket, pen and paper for taking notes, and your computer and/or mobile device.
Don DeRosa is a real estate investor, author, teacher, coach and national speaker. Don has trained thousands of new and experienced investors to build wealth in real estate using the same techniques that helped him build his fortune, particularly buying with owner financing, using private money, creatively structuring deals and selling quickly in any market.