Jack Shea's Final Options + Advanced Strategies Workshop – Sept 14, 2019
Posted on August 19, 2019 by
Sat, September 14th in Tampa, FL
Tampa REIA Presents…
OPTIONS +
Advanced Strategies
Sat, Sept 14th from 9AM – 5PM
Register Now to learn how to control real and personal property using options and proven documents that produce more profit with little or no risk!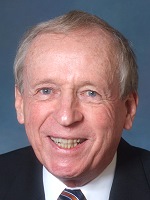 Jack Shea moved to Florida in 1978, and began investing in real estate. He is a licensed Realtor and Mortgage Broker. He has done syndications and mobile home development. He also has bought and sold mortgages and notes on real and personal property.
Jack has concentrated on buying and selling Options on real estate, and has been an investor in single-family and mobile homes. Jack operates a 1031 exchange facilitator business with his wife, Merle, and his son Daniel.
Jack has taught classes to investors nationwide on options, lease-purchase contracts, note buying, land trusts, exchanges and IRA investing for many, many years.
Please join us on Saturday, September 14th from 9AM to 5PM at the Ramada Tampa Westshore located at 1200 N Westshore Blvd, Tampa, FL for Jack Shea's Final Options Workshop.
At this Options + Advance Strategies Workshop, Jack will teach you how to control real and personal property using Options and other proven documents that will allow you to produce more profit on your deals with little or no risk.
This is your last chance to learn Options from a man who helped pioneer this industry. Register Now and come learn:
How to Find & Finance Deals Without Banks
Less tax = More profit Option/ 1031 Strategy
Be a Lender without having to foreclose
Option loans, Avoid usury, Change tax year
Defer capital gains, Borrow interest free
Super Charge Your IRA with Options. Get Leverage without debt
Sell depreciation, Protect Equity & 15+ Money Making Ideas
Includes latest edition book and forms CD
Register Now and you'll get all this, answers to your questions and Jack's Latest Edition Work Book and Forms CD! Don't miss this final opportunity to learn from an Options Master… Register Now and Don't Miss It!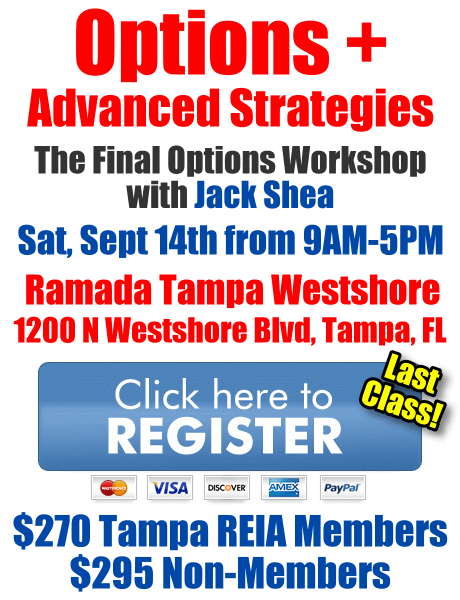 REGISTER NOW WHILE SEATS ARE AVAILABLE for the workshop and join us at the event! Be sure to bring a light jacket, pen and paper for taking notes, and your computer and/or mobile device.