Jimmy Napier's Negotiations Class on June 14-15 in Tampa, FL
Posted on May 28, 2014 by
Sat & Sun, June 14th & 15th – Tampa, FL
Negotiations Workshop
with Jimmy Napier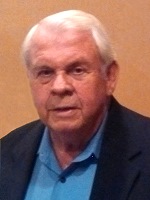 Learn from master negotiator Jimmy Napier on what you need to do and know to be a better negotiator!
Jimmy Napier, the son of a sharecropper, grew up in a poor rural area of northwest Florida. After going broke in the cattle ranching business and quitting his job with the telephone company, Jimmy started selling real estate. Soon he started investing in real estate and mortgages.
With his negotiating skills Jimmy soon acquired a substantial portfolio of mortgages and real estate in several states.
Jimmy's success in the many areas of real estate and mortgage investing is a result of his incredible ability to talk to and negotiate with people. Learn his many techniques and how to apply them in your life whether buying real estate, mortgages, just a car or in any business.
Would you like to know about these topics? Be a don't wanter. Don't cut the largest tree. Let someone else be the bad buy. Three things always present in a negotiation. Mention numbers and lose. It pays to be mixed up. Use carrots and teasers. Become an involved listener. Listen well enough to hear those things that aren't being said. Would you take? Take care of your only security. The 10 second rule. Discover their problems and gain the advantage. People don't know their needs sometimes. Don't reveal your hand! What is logical for you might not be for the other party. Is it worth negotiating? What motivates others to do what we want? Have you had your $50,000 seminar yet? Let them choose. Don't shop before you need it. Never stop on snags. Ask questions, don't make statements. You can have whatever you want in life if… When does negotiation start? When does negotiation stop? Nothing down must be good, right? Stop your losses. – and MORE!
Jimmy is teaching a full two day seminar based on his best ideas on how to negotiate any deal. Each one of his strategies will make you money and increase your negotiation power.
Should you attend?
Only if you want to want to be the best negotiator in any room! It doesn't matter if you're a beginning investor or a seasoned veteran, you need this information.
100% Money Back Guarantee! After attending all two days of the class, you aren't completely satisfied, we will give you 100% of your money back. What do you have to lose? Sign-up today!
REGISTER NOW USING THE LINK BELOW ONLY $297