Jump-Start Your Real Estate Investing Business 2 Day Workshop on November 11 & 12, 2017
Posted on November 1, 2017 by
Sat & Sun, Nov 11 & 12th at 9AM @ Doubletree Suites Tampa Bay
Jump-Start Your Real Estate Investing Business
A 2 Day Live Workshop with
Don DeRosa on the Ugly House Business & the Pretty House Business
Sat & Sun, Nov 11th & 12th, 9AM – 6PM
PLUS Get a Full Day Pre-Recorded

Technology Workshop for Real Estate Investors

as a SPECIAL BONUS for Attending the Live 2 Day Training!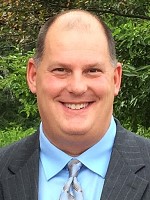 Register today for Don DeRosa's 2 Day Jump-Start Your Real Estate Investing Business on Saturday & Sunday, November 11th & 12th at 9:00 AM held at at David Minor's Vesado Office located at 2203 N Lois Ave, 12th Floor, Suite 1210 in Tampa, FL to learn how to quickly and affordably jump-start your ugly house and pretty house real estate investing business.
Don DeRosa is a real estate investor, author, teacher, coach and national speaker. He has trained thousands of new and experienced investors to build wealth in real estate using the same techniques that helped him build his fortune, particularly buying with owner financing, using private money, creatively structuring deals and selling quickly in any market.
Wholesaling ugly, run down houses and buying pretty houses creatively are two of the quickest and easiest ways to start cashing checks in real estate without using any of your own cash or credit. Whether you want to be a full-time investor or are just getting started part-time, let Don show you how to Jump-Start your real estate investing business at this 2 Full Day Workshop where you will learn about…
Day 1: The Ugly House Business
Wholesaling houses is one of the quickest ways to start cashing checks in real estate without using any of your own money or credit.
Wholesaling – What it is and how it works
The top five methods to finding the deals with the most profit potential
How to determine the wholesale value of a property
How to negotiate like a pro
The Closing process – Step by Step directions
Understanding the difference between assignments and double closings
All the paperwork involved from start to finish
How to build a super hot buyers lists
Selling your wholesale property fast
Pitfalls to avoid
All this and answers to your questions and much more!
Day 2: The Pretty House Business
Another easy way to get started in real estate investing is by taking over existing debt. Don will teach you the six simple steps to make you a creative real estate investor and "transaction engineer".
Strategically know where to invest
Getting Deals (Some Call it Marketing)
Deal Evaluating (Prescreening)
Making Offers & Negotiating (For-Profit Operation)
Private Borrowing (Known as Lending By Others)
Exit Strategies (Exits that work TODAY)
Once you learn about each of these steps and how to execute them, you can continue to do it over and over again for massive profits. In addition to taking you through each of the steps above, Don will also teach you about:
How to push one button and have your phone ring off the hook with highly motivated leads for under $20 (you have to see it to believe it)
Learn the three most important scripts when talking to an investor, home owner or agent
20 questions you should always ask a potential seller
How to evaluate any deal within seconds and know exactly what to offer
What paperwork creates an ironclad subject to deal
How to avoid the "due on sale" clause
How to track your progress
The top five negotiating tactics to get sellers to say "yes!"
How to remove the worry from every deal you negotiate
Exit strategies that will not only make you lots of money today, but make you wealthy long term
All this and answers to your questions and much more!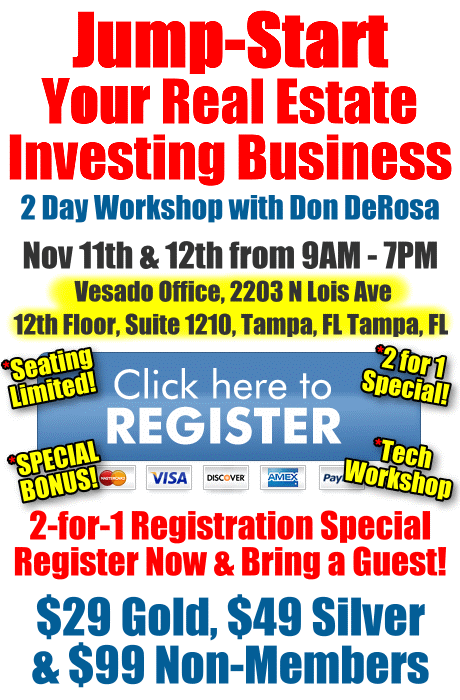 *PLEASE NOTE: The 2-for-1 Early Registration Special is for Tampa REIA Members Only. After the early registration period expires, the 2-for-1 special will end and the cost of tuition will increase. Non-Members who Join Tampa REIA between November 1st through November 10th, 2017 can attend the 2 day workshop at NO CHARGE as new members and can bring a guest. Also, Tampa REIA Members who renew their membership for an additional year between November 1st through November 10th, 2017 can attend the workshop for NO CHARGE and bring a guest as well. When Joining Tampa REIA or renewing your membership, please indicate that you want to attend the workshop at no charge. You can Join Tampa REIA at http://membership.tampareia.com.
SPECIAL BONUS: Technology Training for Real Estate Investors
As a SPECIAL BONUS for attending this event, you will given access to a prerecorded, full day workshop with Don DeRosa on "Using High Tech Tools to Operate, Systematize & Automate Your Real Estate Business for Fun & Massive Profits!"
When it comes to technology, most people only use their smartphones and tablets to talk, text, play games, and watch videos. But did you know that you can also use your mobile devices to successfully operate and automate most of your real estate investing business, so you can work less and earn much more?
Imagine this… You've found a deal… You're at the seller's house and everything seems to look good… but you suspect the sellers might have an appointment with your competition later. You need to lock this deal down NOW so you don't lose it. NO problem! You smile as you pull out your tablet, tap a few apps, run a few numbers and… BAM, you're making a deal happen!
In just a few moments, you've pulled comps, estimated the repairs, made your offer to the seller, gotten them to sign the contract, then submitted that contract to your title company, your attorney, and the seller… ALL BEFORE your competition ever leaves their house!
Best of all, it was not only EASY, but it's FUN to do it all that way! In this pre-recorded workshop, Don DeRosa will teach you about all the tips, tools and technology you need to take your business to the next level and beyond! He will teach you about…
How to find leads on your tablet or smart phone
How to use your mobile device to send postcards
How to find anyone, anywhere in a matter of seconds
How to identify within seconds whether this is a buy and flip neighborhood verses buy and hold neighborhood
What are the best apps to run your entire life not just your business
How to carry your business with you so you never miss an important opportunity
How to find comps without ever stepping out of your car
How to automate all the parts of your business that suck up your time
How to complete your paperwork on the fly
Don's favorite hardware, software, gadgets and apps to make your much more productive and efficient
And much, much more!